2012 Chevy Camaro ZL1 to Come Packing 580 HP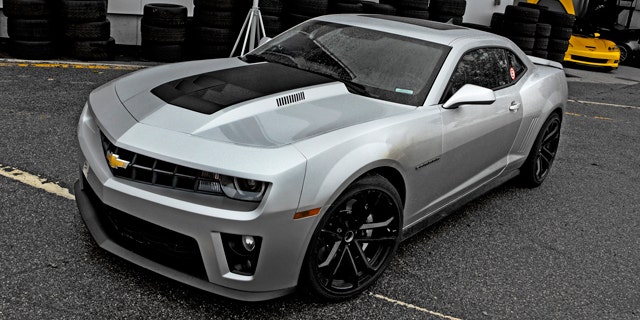 The muscle cars have a new king.
Chevrolet has announced that its upcoming 2012 Camaro ZL1 will come packing 580 hp under the hood when it goes on sale early next year, which would make it the most powerful muscle car in America and a good deal more potent than the current top of the line Camaro SS with its 426 hp V8.
When it was first unveiled at the Chicago Auto Show this past February, the folks from Chevy said that the ZL1 would have at least 550 hp, but clearly were keeping the truth close to the vest.
The horses come from a modified version of the 6.2-liter V8 in the 556 hp Cadillac CTS-V that features a new induction system, low-resistance air filter and a revised supercharger with improved airflow. An engine oil cooler from the Corvette ZR1, rear-differential cooler and high-performance fuel system all aim to enhance its on-track performance.
Six-speed automatic and manual transmission will be offered, both matched to GM's latest Magnetic Ride Control active suspension system, which can adjust stiffness up to 1,000 per second using dampers filled with a magnetorehological fluid that reacts to electric inputs. As Cadillac's recent commercials point out, it's the same sort of thing found on a Ferrari 458 Italia.
Launch control and the same advanced traction and stability control system that's found on the ZR1 complete the performance end of the package, while a redesigned body sporting a carbon fiber hood gives the ZL1 a unique look.
Pricing has not been set, but it's likely to fall in the $50-60,000 range.
FoxNews.com Autos is on Twitter. Follow us @foxcarreport
All told, between tech and the power, the ZL1 beats the current top of the muscle car heap, the 550hp Ford Mustang Shelby GT500, in just about every category. But that might not be the case come next year.
In Chicago, a Ford insider told FoxNews.com that an answer to the ZL1 was on the way. Rumor has it that the lighter 'Stang could come packing 600 hp or more.
In other words: Detroit still knows how to play king of the hill.