2012 BMW 3-Series Revealed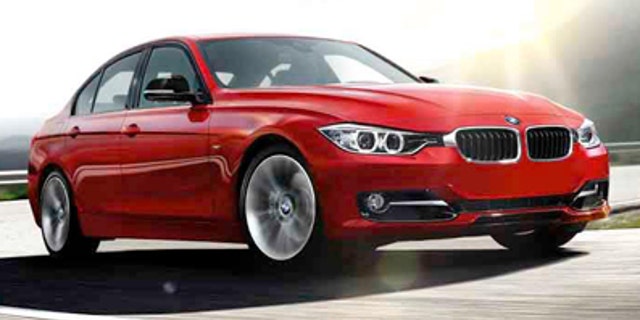 BMW's new 3-Series, the sixth generation of the automaker's entry-level sedan, is now bigger, bolder, and with a revamped engine lineup including a hybrid option, more fuel efficient than ever.

Set to go on sale in February as a 2012 model, the 'F30' 3-Series also debuts BMW's new face, which features elongated headlights reaching along as far as the trademark kidney grille.

Otherwise, the design is somewhat predictable, with an athletic body, short overhangs, and a long bonnet dominating the look.

As mentioned, the 2012 BMW 3-Series is bigger than the model it replaces, with its wheelbase growing by almost two inches, now measuring 110.6 inches, and its front and rear track measuring in at 60.3 inches and 61.9 inches, up 1.46 inches and 1.85 inches respectively.

Importantly, weight distribution remains an ideal 50:50 split front to rear. Overall weight is down 88 pounds on the outgoing model as well. Most of the extra girth benefits rear seat passengers, which get more legroom as well as shoulder room.

Three trim levels and two engines, initially

Buyers in the U.S. can look forward to three different trim levels--Sport Line, Luxury Line and Modern Line--and two new engines: a range-topping six-cylinder turbo in the 335i model or a new four-cylinder turbo in the 328i.

Both engines feature BMW TwinPower Turbo technology, which is essentially the automaker's name for its engines featuring twin-scroll turbochargers, direct fuel injection and solenoid injectors, the latter being the latest innovation for BMW's VALVETRONIC variable valve control system.

Both engines can also be matched to either a standard six-speed manual or new eight-speed automatic. The auto 'box features engine stop-start technology and is both faster and more fuel efficient than the manual. Paddle-shifters for pseudo manual control are available with either the Sport Line package or new M Sport Package.

Also aiding efficiency is a brake-energy recovery system used to power ancillary features like the air conditioner. A number of settings available to the driver--"Comfort", "Sport", "Sport +" and "ECO PRO"-- through a new Driving Dynamics Control switch will also help them choose between economy and performance driving.

A further button allows the driver to change the DSC settings. Selecting "Dynamic Traction Control" (DTC) mode, for example, makes it much easier to start off on loose surfaces or in deep snow. In this mode as well as in SPORT+ mode, the Dynamic Stability Control thresholds are raised and Dynamic Traction Control (DTC) is activated. It is also possible to shut off DSC altogether. The electronic limited-slip function for the rear differential can then provide extra-sporty acceleration out of corners or hairpins.

The six-cylinder engine featuring in the 2012 BMW 3-Series is BMW's venerable 3.0-liter 'N55' unit and in this latest application develops 300 horsepower and 300 pound-feet of torque, the latter coming on from just 1,200 rpm and staying all the way to 5,000.

It will rocket the luxury sedan from 0-60 mph in just 5.4 seconds and see it easily reach its electronically limited top speed of 130 mph, or 155 mph when equipped with the Sport Line trim.

When equipped with the eight-speed automatic, BMW claims a fuel economy of 32.6 mpg for the slightly more generous European combined cycle. In fact, BMW even claims that owners upgrading to the new model can expect improvements in gas mileage of about 6 and 16 percent for the manual and automatic models, respectively.

The four-cylinder engine, meanwhile, is a 2.0-liter unit that we recently tested in the 2012 BMW Z4 sDrive28i and is rated at 240 horsepower and 260 pound-feet of torque. This unit produces its peak torque from as low as 1,250 rpm and will accelerate the 328i from 0-60 mph in 5.7 seconds and to the same governed top speeds as the 335i.

Full EPA-rated gas mileage figures will be released closer to the car's sales launch next year.
Click here for more from MotorAuthority