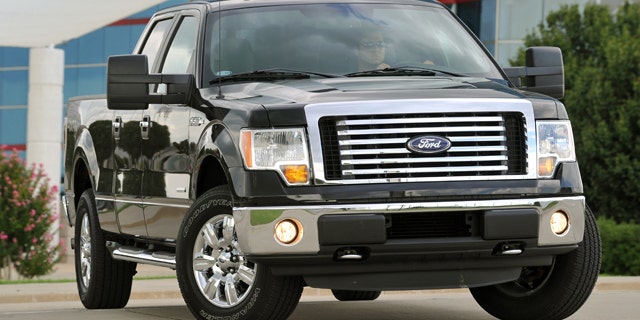 NEWYou can now listen to Fox News articles!
It has two turbochargers, an intercooler, direct injection and a bed.
No, I'm not talking about the latest fantasy suite at the Moonlite Bunny Ranch, but it's becoming increasingly likely that you'll see one of these parked in front of there soon.
For the past couple of months, the Ford F-150 EcoBoost has been the best-selling version of the best-selling vehicle in America. In June alone, 41 percent of the full-size pickups were delivered to customers so equipped.
Did I mention that it is a V6?
This marks a huge shift in perception among a consumer group that typically considers the number of cylinders in its engines second only in importance to the circumference of its belt-buckles, and that's not a knock. Even in today's world of increasing fuel economy standards and a stagnant regular economy, the pickup remains the quintessential form of all-American transportation and an enduring symbol of the bigger is better ethos that built this nation and created the monster truck.
So, why the switch?
As it turns out, the one word we like more than "bigger" is "more," and the EcoBoost offers plenty of that. Compared to also-new-for-2011 Coyote 5.0-liter V8 that the F-150 shares with the Mustang, the 365 horsepower 3.5-liter EcoBoost has 5 more hp and an additional 40 pound-feet of torque, for a total of 420 lb-ft. This allows it to tow up to 11,300 pounds, 1,300 pounds more than the eight-cylinder can handle.
But the trick that has everyone excited about the EcoBoost is that it lives up to its non-ravenous animal name and gets about 6 percent better fuel economy than the 5.0-liter. That's 21 mpg hwy and 17 mpg combined for 4X4 versions. To put that into an even sharper perspective, a compact Ford Ranger V6 is rated at 16 mpg combined. No surprise Ford is giving that one the axe this year.
Nevertheless, what's really driving sales is that you get all of this turbocharged goodness for a mere $750 premium over the 5.0-liter. For most people, that'd be worth it for the power alone, but the increased efficiency means that you'll get it back from the pump in about three and a half years – sooner if you do the majority of your truckin' on the highway. The lowest-priced EcoBoost F-150 model starts at $28,185.
In fact, the only discernable on-paper advantage that the 5.0-liter holds over the EcoBoost is that it can run on E85, a very important point for people who live near one of the 2,777 stations that sell the subsidized corn juice. EcoBoost owners will just have to deal with filling up at one of the other 165,000 or so outlets that don't.
Paper is not pavement, of course, but the EcoBoost delivers there too. Packed into an F-150 SuperCrew Lariat, the V6 feels very much at home. All 2011 F-150s get a new 6-speed automatic transmission with full manual control – it'll even bump up against the rev limiter without shifting up – and the glut of gears takes full advantage of the power on hand.
The throttle may be missing that late 1960's muscle car responsiveness you get in a Dodge Ram with a HEMI V8 – perhaps by design – but quickly delivers a rush that could have Norfolk-Southern written on the side of it. I didn't try my hand at any towing, but I did turn the tires into smoke on a drag strip, so I can sort of confirm that it hauls.
On the highway the motor chugs along without a care in the world, spinning at just about 2,000 rpm at 75 mph. Sorry, "chugs" is the wrong word. "Whirrs" is more accurate. It is almost embarrassingly quiet in such a big, brawny vehicle. Spend some time in an EcoBoost F-150 and the whole pickup-truck-as-family-car thing starts to make a lot of sense – it's like driving around in a small library.
Now, I'm a firm believer that it really doesn't matter what kind of engine you have, as long as it does the job. The only caveat to that is how good it sounds. I mean, come on! Around here we blow things up to celebrate joyous occasions, let alone when we get angry.
To date, every vehicle with an EcoBoost engine has been plagued with this same affliction. While it may be acceptable, and even attractive in a luxury car like the Lincoln MKS - which uses its own version of the 3.5-liter V6 - it is simply inexcusable in an awesome extension of manhood like the F-150. Ford really needs to get its pal Jack Roush to work on this one.
Until then, the F-150 EcoBoost may be the largest stealth vehicle you can by, short of a B2 bomber, and just the thing for sneaking around on the ranch.
Or to it.
----------
2011 Ford F-150 SuperCrew Lariat EcoBoost
Base Price: $39,615
As Tested: $46,620
Type: 4-door, 5-passenger pickup truck
Engine: 3.5-liter turbocharged V6
Power: 365 hp, 420 lb-ft torque
Transmission: 6-speed automatic
MPG: 15 city/21 hwy