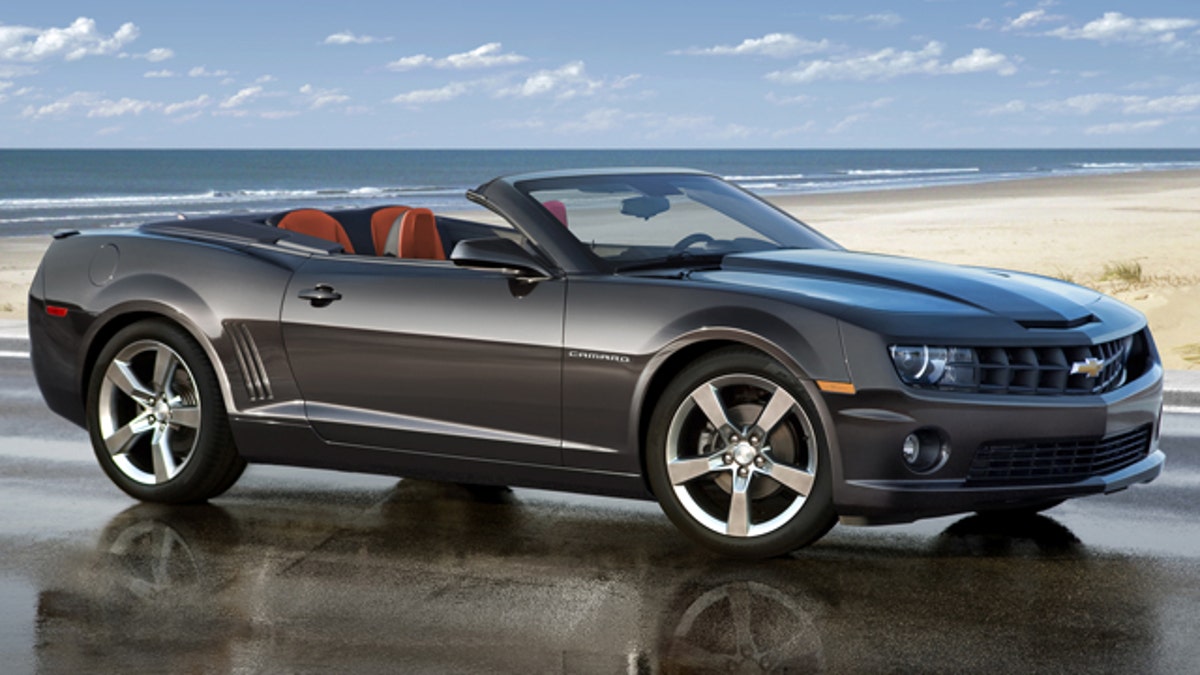 During his journey east to conquer the world, ancient Macedonia's Alexander the Great encountered an interesting challenge in the town of Gordium, located in what is now Turkey.
There, the ox cart of a former king was secured to a pole by a knot so complex that it was said to be impossible to untie. Not surprisingly, a local oracle foretold that whoever could do so would become ruler of Asia. Since that was exactly what he hoped to do, Alexander considered the puzzle at hand, pulled out a sword, and sliced the rope. The rest, as they say, is a Colin Farrell movie.
Flash forward a couple of thousand years, and it appears that someone at General Motors has been reading up on old' Alex's problem solving skills.
The resurrected Chevrolet Camaro is the current champion of the pony car sales wars, and there is little sign of it being bested by the Mustang or Challenger anytime soon. However, the coupe is also a flawed hero with a notable Achilles heel. While its curb appeal has proven to be unmatched among American cars today, its headroom-robbing roof and peephole windows have been universally panned by critics and suffered with a smile by the helmet-wearing faithful.
Seen one at an autocross lately? I didn't think so.
But, with one fell swoop of the sword, or in this case the proverbial Sawzall, Chevy has simply cut the top off of it and created the 2011 Camaro Convertible, opening it up a new market of gigantic and claustrophobic customers. So let it be written.
It's actually a much nicer job than that makes it sound. The new Camaro was designed from the start with a convertible version in mind, it just took a while for GM to get around to making it. Cash had been a little tight there for a while.
The conversion is, in fact, one of the best ever. Changes to the cabin are minimal, even in the back seat where leg and shoulder room are a tenth of an inch more than in the coupe. Top up, headroom increases a notch, too, and I'd much rather have what's left of my hair rubbing up against a fabric soft top than rock hard mouse fur or glass when I'm stuck in the cheap seats. Surprisingly, the trunk is only about one cubic foot smaller than the coupe's: a very useable 10.2 cu. ft.
Substantial bracing underneath the skin adds a large passenger's worth of weight to the already hefty chassis, but keeps it stiff enough that the engineers didn't need to install a mushy suspension to keep the car from falling apart on bumpy roads. Springs, dampers, etc. are all unchanged from the coupe, regardless if you choose the base $30,125 V6 or $37,625 V8-equipped SS model.
Power is identical, as well, with the 6-cylinder providing a substantial 312 hp and 28 mpg highway, while the V8 is rated at 426 hp when paired to a quick-shifting 6-speed manual transmission, 400 hp with a the optional 6-speed automatic.
In the very American, but Canadian-built SS that I thoroughly tested on a trip to Asbury Park, NJ – a seaside down that is the cradle of Bruce Springsteen's musical career and historically dominated by muscle cars like the Camaro - I discovered two things.
First, like The Boss, it is a rock star. Everywhere I went it turned heads and caused thumbs to be upturned. No polarization here, people simply love it, and if they don't they keep it to themselves. I encountered none of the nastiness once doled out to drivers of IROC-Zs on those very streets, some of which came from me.
Even the storage case that the cover for the stowed convertible roof comes in is shaped like a guitar. Plus, with the top down, the throaty burble and bark of the V8 is delivered to the driver in full quadraphonic sound. Why should the people you're passing have all the fun? They shouldn't, that's why this car exists.
Unfortunately, the second lesson is that SS is loud, period. The soft top isn't exactly an isolation chamber, and when it's up it still lets in many of the sounds of the great outdoors. Get stuck next to a diesel bus in a tunnel and you'll wish you'd taken the bridge. The available Boston Acoustics audio system that includes a subwoofer between the rear seats is a smart option at $495 and very useful for making a spectacle of yourself if you plan to go cruising often on the Jersey Shore.
In dash navigation is not available, but cars like this are about mindless journeys, not the destination. OnStar does offer turn by turn directions if you really need to get somewhere you've never been before, and the system works well. The dreamy leather seats make long trips a snap, the springy, non-linear clutch, not so much.
Fox Car Report is on Twitter. Follow us @foxcarreport
Dynamically, the drop top feels very much like the coupe. Same blistering acceleration, quick steering, stop-you-in-your-tracks Brembo brakes and tons of grip for the turns. Only when the road gets very rough does it start to do the shimmy-shake, but it's enough to remind you that this is not a car meant for the highest-performance antics. Instead it is a mighty chariot that – hopefully - raises your profile among your peers and bestows you with enough power to eliminate many of them in short battles.
You won't conquer Asia in it, but the East Coast is yours for the taking, at least for the rest of the summer.
----------
2011 Chevrolet Camaro Convertible SS
Base Price: $37,625
Type: 2-door, 4-passenger convertible
Engine: 6.2L V8
Power: 426 hp, 420 lb-ft torque
Transmission: 6-speed manual
MPG: 16 city/24 hwy