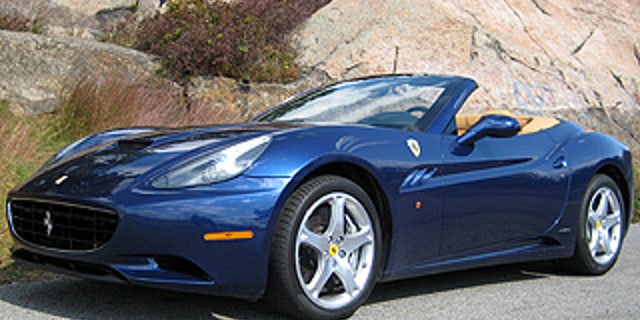 Ferrari really missed the boat on its new car, the California. Not with the vehicle itself, which is brilliant, but on the name. Yes, it's a convertible, and perfect for The Golden State, but there are plenty of cars like that, so that's hardly a unique selling point.
Click here for a SLIDESHOW of the California
What Ferrari should've done is call it the Brooklyn, or Cleveland or, gasp, Detroit, because the amazing thing about the California is how it has been designed to handle terrible weather, and the worst roads, conditions that can turn typical exotics into high-priced moveable gulags.
First, there's the roof itself. The California sports Ferrari's first retractable hardtop, which is the raison d'etre for the otherwise svelte two-door's rather roomy-looking derrière. It opens and closes in about 14 seconds, and puts on quite a show as it emerges from the huge hatch that it lives under. The 11 pound contraption feels solid when shut, and is nearly as good as a fixed top at keeping out wind noise, both natural and of the speed-generated variety. In the couple of days that I had the car I didn't encounter any inclement weather, so I can't vouch for leaks, but if faced with an approaching Nor'easter I'd feel a lot better sitting under it than a ragtop. But that's not the most impressive thing about the car.
After escaping the confines of Manhattan in search of the perfect road to test the California on, I found myself lost in the nearby mountains, chasing every squiggly line displayed on the car's standard navigation system. More often than not, what I encountered were weather-ravaged surfaces that looked like they hadn't tasted hot asphalt since the days of the double-nickel speed limit. Instinctively cringing at the sight every time I turned onto one of these tarmac travesties, it crossed my mind that if I were behind the wheel of any other Ferrari, I'd probably just pull over and call for a flatbed, rather than go through the pain of backing up and riding over it again.
Click here for VIDEO of the California
Then I realized that, while this was going through my head, I hadn't even slowed down. The California was just cruising along, soaking up the blacktop blemishes and asking for more. It posseses the kind of supple suspension that French cars and Jaguars used to be known for, not feisty Italian beauties. You would probably have to take it off-road before aches and pains entered into the equation. Fortunately, paved nirvana revealed itself before it came to that.
On the smooth stuff, the nearly 2-ton 2+2 is in its element. The body rolls quite a bit more than anything else with a Prancing Horse on the hood, but the motions heighten the fun. There's no need to chase the dragon of speed all the way into the triple digits to get a thrill, but you can if you want to.
The California has a version of Ferrari's 4.3-liter V8 from the track-focused F430 under the hood, making it the company's first car with a front-mounted 8-cylinder engine. Fitted with direct fuel injection, and retuned to pump out 454 horsepower and 358 pound-feet of torque, the high-revving motor sends power to the rear wheels through a 7-speed dual-clutch automatic transmission, also a first for the automaker.
Like most high-performance automatics these days, the one in the California has a launch control feature. Unlike the rest of them, it doesn't sound like it's going to disintegrate every time you use it. Stand on the brakes, floor the accelerator, drop the brakes and you're off like a pull back toy. There are no bangs or clangs sending shockwaves through the drivetrain, or any tire-shredding wheelspin, just a quickly rising crescendo of speed and gearshifts accompanied by the ethereal shriek of air and fuel being churned and burned by eight pistons spinning toward 8000 rpm.
It takes less than four seconds to reach 60 mph, and about three times that to cover a quarter mile. Somewhere in between you may decide to ease up on the gas and use the paddles behind the steering wheel to shift for yourself. Gear changes are immediate and jolt-free, the blipping throttle matching revs perfectly. In automatic mode, the transmission is nearly as satisfying, though it can be a little lumpy at very low speeds, as dual-clutch units tend to be.
Hit the standard carbon ceramic brakes - to slow down this time - and you're met with a double treat. First, your neck doesn't get snapped off the way it does in most cars with this kind of disk. The pedal is progressive, not an on/off switch, but doesn't give up any stopping power. Adding to the fun, it also works like an extension of the gearbox, knocking off machine gun-fast downshifts whenever the transmission is set to Sport mode and you're wearing the lead shoes.
Befitting what is ostensibly a grand touring car, the steering is responsive, but light. It never fights back, just delivers whatever you ask of it. Throw the California into a switchback curve and you can feel the weight of the car transferring through your hips and settling on the outside rear tire. With the traction control turned off, a nice stab of the gas will turn that rubber into smoke, and put the car into a YouTube-worthy power slide. Resist the urge to do that and you'll discover that the fat Ferrari can hang on with the best of them. Once you get past the initial list, it settles in, and massive grip is yours for the taking. No big softie, this one.
Of course, the stated mission of the California is to be a more accessible Ferrari, one that you can drive every day. It hits this mark well, too.
Despite the low-slung appearance, the California is taller than most cars of its ilk, about the same height as a Mazda Miata and easier to get into. Even with the roof closed, no ducking or contortions are needed upon entry, and the airy interior offers long-legged, wide-body room. Over the shoulder visibility is pinched by the posterior, top up or down, but it's otherwise claustrophobe-friendly. Setting off Ferrari's familiar, tightly-fitted leather trim is an aluminum arch that serves as a center console, and flies over a cubby that's just wide and deep enough to hold Blackberries in place during high-g force maneuvers.
Click here for more auto news and reviews from Fox Car Report
Nits? The carpet isn't so great that you feel bad about getting it dirty, and the window switches are about as sturdy as the flip tops on soda cans. But the biggest disappointment is the turn signal stalk, which operates with all of the finesse of something found in the Fiat parts bin that it likely came from. This might seem like a trifle, but in a car like the California, you use it a lot, so it's hard not to notice.
Unless of course the top is down, and you are cruising along at 70 mph in fifth gear with the engine humming away at 3,900 rpm, massaging you with its good reverberations. Body panels could start breaking off at that point and you wouldn't care.
In fact, in that exact state of bliss, I managed to ignore a warning from the tire pressure monitoring system long enough that I ended up with a run-flat tire that lived up to its name - the scrape on the underbody indicating that a previous driver found himself on an even worse road than I did. Miles from nowhere, and in no mood to wait for roadside assistance, I dug into the sizable trunk – which can be expanded into the cabin for golf bag duty by folding down the rear seats – and was pleased to discover an air pump that worked off of the 12-volt socket.
A few minutes later, very slow leak in check, I was on my way with slightly less vigor, remembering what was, and dreaming about what could have been if I didn't have to give the car back to Ferrari later in the day. As fast as it is, the California never really begged me to take it a race track, but it did inspire me to visualize every great road I had ever driven on, laid out in front of me end on end in one giant loop. If such a thing existed, I might still be on it, even if someone slipped a couple of blocks worth of Brooklyn's best in there.
—————
2009 Ferrari California
Retail Price: $196,450
Type: Front-engine, rear-wheel-drive, 2-door, 2+2 seat convertible
Engine: 4.3L V8
Power: 454 hp, 358 lb-ft torque
Transmission: 7-speed automatic
Fuel Economy: 13 city/19 highway
What do you think of the California?
Send your comments to foxcarreport@foxnews.com