1929 Mercedes-Benz crowned Pebble Beach Concours champion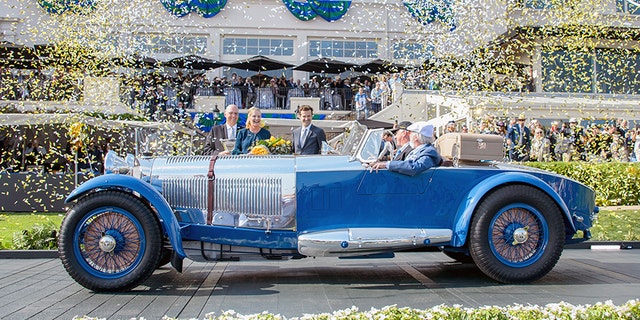 The 1929 Mercedes-Benz S Barker Tourer that claimed the Best of Show honors at the 67th Pebble Beach Concours d'Elegance almost didn't make it to the show. Owner Bruce R. McCaw of Bellevue, Washington, struggled with the idea of restoring it for several years. "The question was whether or not to restore it. I always hate to restore something that doesn't need it. But we finally found enough pictures that we knew the car needed to be restored," said McCaw.
ALSO SEE: Vision Mercedes-Maybach 6 Cabriolet concept: Does this hood make me look expensive?
Even at that it was a close call. The restoration was completed by Steve Babinsky's shop In Lebanon, New Jersey, just a week ago. The car made it way across the country to Pebble Beach in time to capture the most prestigious award in the classic car game.
The Mercedes squared off against two other finalists to claim the top award. One of those cars was a 1957 Ferrari 315 S Scaglietti Spyder owned by McCaw's brother John McCaw and his wife Gwen. The other finalist was a 1932 Packard 906 Twin Six Dietrich Convertible Victoria entered by William E. Connor, of Reno, Nevada.
CHECK OUT: Great Ferraris from The Quail
Not only did the Mercedes beat those cars, but it also prevailed over a field of 204 entries from15 countries and 31 states.
The beautiful boattail Mercedes, which also won the Most Elegant Open Car honors, received its stunning coachwork from Barker of England. It was delivered to a Captain Miller on behalf of Earl Howe, the British race driver who also cofounded the British Racing Drivers' Club.
Among the car's most beautiful elements are it's chromed boattail and brilliant blue paint, which was inspired by an 1850s dress made of peacock feathers. The hood and cowl are also chromed, and so are the torpedo-style running boards, which hold tools and other items. The Marchal lighting and chrome-plated wheels are original equipment. Low-cut doors add a sporty touch.
For more from Monterey Car Week and the Pebble Beach Concours, see our dedicated hub.