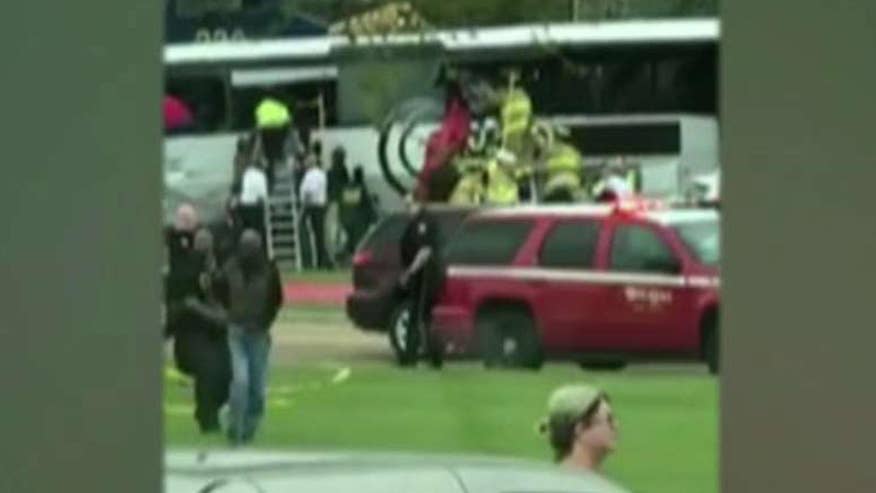 The train that slammed into a bus filled with passengers heading to Gulf Coast casinos "just kept coming and coming," according to a man who survived the crash in Mississippi that killed at least four people Tuesday.
"The bus tried to clear the tracks and got stuck right in the middle and it couldn't budge," passenger Jim DeLaCruz told The Sun Herald.
It was unclear why the bus had stopped on the tracks in Biloxi. Police chief John Miller did not immediately confirm whether there were mechanical problems. The crossing is on a steep embankment.
4 KILLED, DOZENS INJURED AFTER TRAIN HITS CHARTER BUS IN MISSISSIPPI
Determining the exact length that the bus sat on the tracks would be critical to this investigation, Robert Sumwalt, a National Transportation Safety Board (NTSB) member, said Wednesday.
A woman who lived near the scene of the crash said she heard a "loud boom" and knew that a collision had happened.
1 DEAD, SEVERAL INJURED IN LUXEMBOURG TRAIN CRASH
Witnesses told the Sun Herald the bus was stuck for about five minutes before the train slammed into it. Some people were getting off the bus as the driver tried to move it, and at least one person was shoved under the bus when the train hit, according to Mark Robinson, a Biloxi native.
"The train crew placed the train into emergency stop when it was about 510 feet prior to the bus," Sumwalt said. "At the time of the collision, the train had reduced its speed to 19 miles per hour."
Sumwalt also revealed that the train had a front facing image recorder on it. The footage from the Tuesday's crash will be analyzed in the NTSB recorder lab.
"We may well conduct a sight distance test," he added, "to see what a reasonable person could have seen, and was that a reasonable reaction time."
Officials have not released the names of the people who died. At least 40 were hurt, seven critically. Many of the passengers were tourists from Texas.
The city spokesman, Vincent Creel, confirmed that 48 passengers and the driver were aboard the bus. The train crew was not injured.
It took over an hour to remove everyone from the wreckage -- and crews needed metal-cutting equipment to free two people.
The CSX Transportation freight train pushed the bus 203 feet before finally stopping with the mangled bus still straddling the tracks.
"We can't confirm anything at this point," said Elisa Fox, a lawyer for the bus company. "We're trying to mobilize to assess the situation."
Federal Railroad Administration spokesman Marc Willis said the agency would send three inspectors to investigate, while Mississippi was sending one.
The Associated Press contributed to this report.