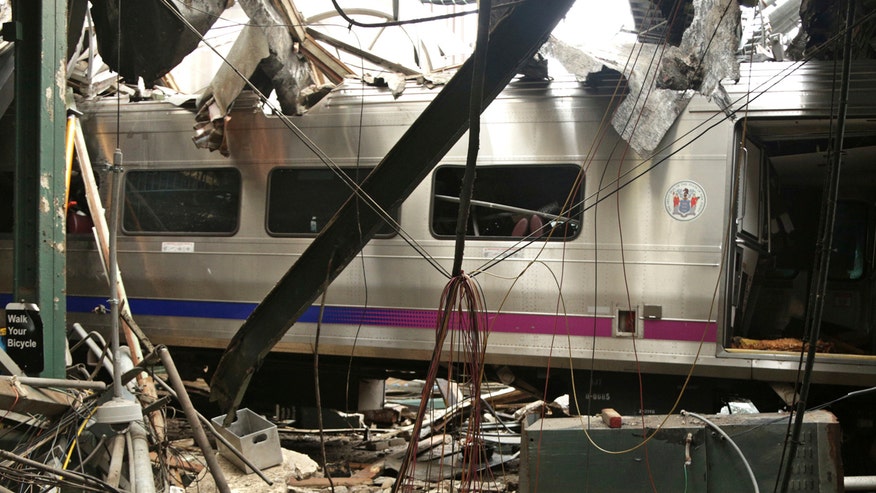 The engineer of a commuter train that slammed into a station going double the 10 mph speed limit, killing a woman, suffered from sleep apnea that had gone undiagnosed, two U.S. officials told The Associated Press on Wednesday.
One official said investigators are looking at it as a potential cause.
The officials, who were briefed on the investigation, spoke to The Associated Press on the condition of anonymity because they weren't authorized to discuss the matter.
They said the engineer, 48-year-old Thomas Gallagher, was diagnosed with sleep apnea after the Sept. 29 crash in Hoboken, the officials said.
Sleep apnea robs its victims of rest because they are repeatedly awakened as their airway closes and their breathing stops, leading to dangerous daytime drowsiness.
The same condition went undiagnosed in the engineer of a commuter train that sped into a curve and crashed in New York City in 2013, killing four people.
A union representing Gallagher didn't immediately respond to a message seeking comment. NJ Transitalso did not respond to a message.
A spokesman for the National Transportation Safety Board said the agency was not in a position to confirm specifics of the engineer's health.
"These are matters that are being looked at as part of the NTSB's comprehensive investigation of the Hoboken accident," said NTSB spokesman Christopher O'Neil.
NJ Transit tests engineers for sleep apnea.
One of the officials briefed on the investigation said given the screening program, it's "not clear why he wasn't screened or if he was, how he passed."
Gallagher, a NJ Transit engineer for about 18 years, told investigators he had no memory of the crash and only remembered waking up on the floor of the engineer's cab. He was pulled from the wreckage, treated at a hospital and released.
The throttle on the train went from idle to the fourth position, about half-power, 38 seconds before impact, and the speed increased to 21 mph, according to investigators. The throttle went back to idle and Gallagher hit the emergency brake about a second before crashing into a bumper at the end of the track.
Fabiola Bittar de Kroon, a 34-year-old lawyer and mother, was standing on a platform when she was killed by falling debris. More than 100 people were injured.
Gallagher told investigators he felt fully rested when reporting to work at 6:46 a.m. that day. He said the train operated normally and he remembered it was going 10 mph as he approached the station.
The NTSB recommended sleep apnea testing for engineers, and Metro-North and the Long Island Rail Road started requiring it after finding the engineer in the 2013 crash had fallen asleep at the controls because he had a severe, undiagnosed case of sleep apnea.
The engineer in that crash, William Rockefeller, told investigators he felt strangely "dazed" right before the crash, which occurred as he sped through a 30 mph curve at 82 mph.