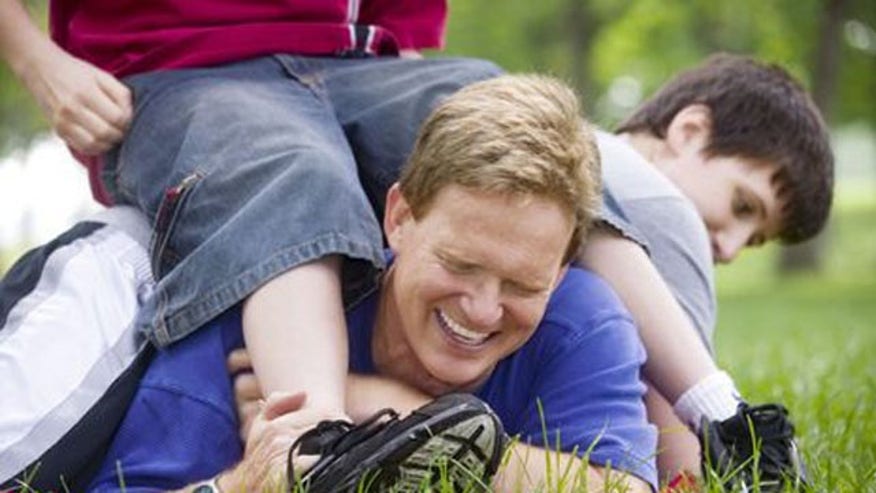 More than 20 million children grow up without fathers in this country, according to the National Center for Fathering. The consequences of that missing parental figure include everything from poverty, to drug and alcohol abuse, to poor physical and emotional health.
"Children born to single mothers show higher levels of aggressive behavior than children born to married mothers," the National Fatherhood Initiative stated.
What about when fathers are present? What if they aren't certain how to help their kids, or fix the problems in their family life or their relationship with their children?
For dads in Pueblo, Colorado, who recognize they need to strengthen their skills as positive influences in their children's lives, a program called the 24/7 Dad Program, run by an organization call A Caring Pregnancy Center, offers a 12-week course. Adoptive, non-biological, and biological fathers are all welcome. The course, most of all, teaches nurturing skills.
Graham Bates, a minister for the Church of Christ, volunteers as a facilitator for the 24/7 Dad Program. "I have heard a lot of people, especially Christians, lamenting that there are so many fatherless homes in the United States -- especially in Pueblo West," he said. "I am doing something about it."
With two fathers enrolled, they recently started a second session of the program. "We are able to give them close, personal instruction and go more into depth with what's going on with them," explained Bates. "We need to ask the right leading questions."
Carey Casey, an "ambassador for fathers" with the National Center for Fathering in Springdale, Arizona, leads a weekly podcast called "Today's Fathers Radio." He provides short, insightful parenting tips for fathers. He spoke about the benefit of expressing feelings in order to prevent domestic violence, among other social issues, last month.
"As leaders of our family, we have to handle our emotions, especially anger, in a positive way," said Casey. "Maintain control -- even if that means getting out of the situation."
Fathers must develop the ability to recognize their feelings, discuss them, and take the initiative to keep their actions under control and be a positive role model to their children.
"In the 24/7 Dad program, it's the idea that all feelings have energy and that when you are expressing those feelings, you're allowing that energy out," said Bates. On July 19, he led a class on identifying and expressing feelings.
"What we try to do is change the metaphor," explained Bates. "I use the image of steam. Your feelings are like steam filling up inside of you, and if you don't let them out, you are going to boil yourself to death inside."
The course is not meant to be a replacement for psychological counseling, Bates said. "This is an overview on: What does it mean to be a good father?"
Due to the small class size at present, Bates is able to have deeper discussions with the dads who are trying to be good fathers.
Many participants have never spent time with their children: They either don't have custody of their children, or they've been in jail. "Because of that, they have not learned how to be a father or how to be a good father," said Bates. He and his group are trying to promote the class in Pueblo so that fathers in the foster system or those with restraining orders can pick up where they left off.
Discussion-centered classes allow dads to learn to openly express their feelings. Once they learn how to control their emotions, they can become a positive influence on their child's life, with a goal of preventing children from repeating their way of life. The course has opened many doors for fathers -- their personal transformation continues after the class has finished.
"One of the fathers and I have started reading the Bible together and he's now learning about that as well," said Bates. "I'm trying to make faith more real in today's life."
Instruction goes beyond the classroom -- it becomes part of the father's daily life.