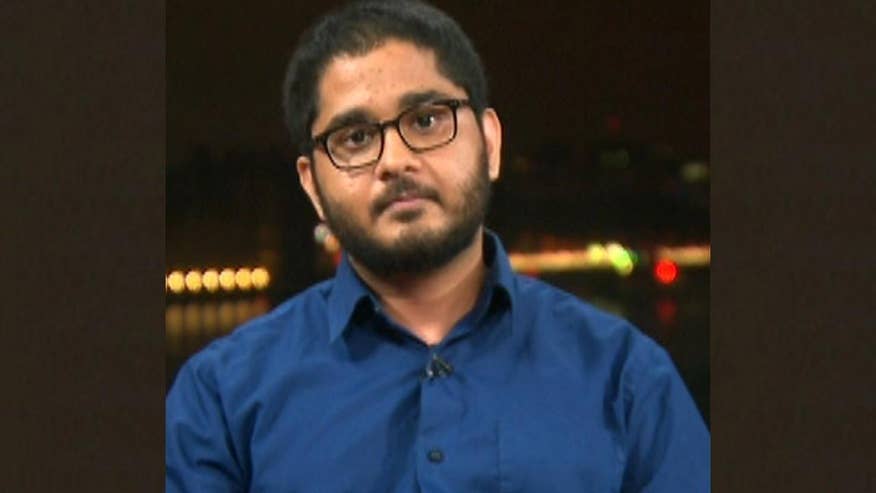 A Florida police officer said Tuesday that he and a group of five of six other officers surrounded the bathroom where Omar Mateen was holed up, but were told to wait until a SWAT team arrived.
Belle Isle, Fla. Police Officer Brandon Cornwell, 25, told The Washington Post that he and the officers entered Pulse Orlando as bullets flew and clubgoers screamed. He said his group aimed their rifles and waited about "15 or 20 minutes" because they were told not to engage the bathroom area. Cornwell said he never even saw Mateen.
Federal authorities said Monday that police "engaged the shooter" inside the club at about 2:08 a.m. Cornwall's account to The Post offers a first glimpse into the efforts to take down Mateen, who murdered 49 people before being killed by officers in a hail of gunfire.
However, the officer's account raises questions as to why the first officers who engaged Mateen weren't told to pursue Mateen in the bathroom or whether SWAT team members or other officers entered the club once the first group retreated.
Those who were still in the club when Mateen was on his killing spree were trapped for hours. The FBI has said that the SWAT team didn't go into the building until 5 a.m., three hours after the attack started.
Cornwall didn't further discuss what happened inside the club, citing the ongoing investigation, but he explained that he didn't second-guess the decision to hold position outside the bathroom.
"We just basically stayed there, waited for movement, and we just held our position until SWAT got there," he explained. "Once SWAT got there, they told us to retreat, that they'd take over because we were not really in tactical gear — we were just in our police uniforms."
Cornwall's account of the early standoff with Mateen is one of three other accounts that state and federal authorities are investigating, even if top police officials believe that everyone "did a good job."
"That's the worst part of this. I think we did an outstanding job, but unfortunately people died," Orlando police Captain and SWAT commander Mary Canty said. He also added that the incident will be reviewed.
Cornwell was at the scene of the shooting by chance. The Belle Isle officer was in the middle of assisting with a traffic stop after he heard the call on the radio that shots had been fired at the Orlando club. He told The Post he was at the scene "in 38 seconds."
"Some ran towards the building; some stayed back with people running out," he told the paper. "There was tons of people running out of the club. I grabbed my assault rifle and ran toward the club. At this point, the shooter is still actively shooting inside."
Cornwell said when he arrived there were about seven other vehicles at the scene and he converged with a group of Orlando Police Department officers who all believed that they should go in an engage Mateen.
"Some ran towards the building; some stayed back with people running out," he said. "There was tons of people running out of the club. I grabbed my assault rifle and ran toward the club. At this point, the shooter is still actively shooting inside."
Witnesses have said that there was a gun battle between police and Mateen at the south side of the building. But Cornwell said he couldn't even see Mateen in the dimly lit club.
"He was actively shooting," he said. "I can't say if he was targeting us. But he was still shooting in that location where he was at. There were bullet holes in the wall, so he had shot through the wall. But I couldn't tell you if he was shooting at us."
He told The Post that officers quickly began clearing rooms, not knowing if there was more than one shooter at the club. He said they located Mateen in the bathroom.
Cornwell said that once the officers got into position, that's when they had to wait for up to 20 minutes. He stands firm that his group was told to hold their position rather than enter the bathroom. He said at some point during the holding pattern, Cornwell and the others exited the club.
"We got word from higher up, and it was communicated to the OPD lieutenant that we needed to withdraw," he said. "So we came back outside. And waited for SWAT. SWAT arrived. SWAT handled everything from there."
Multiple witnesses have said that there were pauses in Mateen's shooting. However, it's unclear whether the pauses occurred before, after or during the first responders' rush into the nightclub.
According to the transcript of Mateen's 911 calls with Orlando police negotiators, he pledged allegiance to Islamic State leader Abu Bakr al-Baghdadi.
He also claimed at one point that he would put explosive vests on hostages and he had an explosive vest on himself, though it turned out to be a hoax vest. He also claimed to have a bomb-laded vehicle outside the club.
The calls with crisis negotiators may explain why officials waited three hours -- until 5:14 a.m. -- before ramming a hole in the side of the club to free hostages and engage Mateen in a final, deadly fight. During those three hours, Mateen was holed up in a bathroom with several hostages, though authorities have said no gun shots were fired during this period. Mateen later died during a shootout with police.
With questions still remaining around the attack, Attorney General Loretta Lynch said Tuesday that authorities are open to releasing more of the conversations between Mateen and police.
Click for more from The Washington Post.