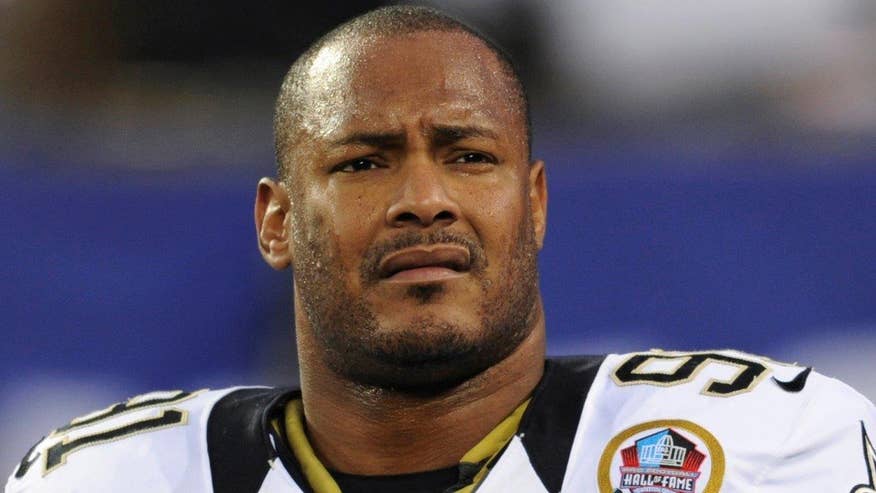 Police said Sunday they were investigating whether the shooting that killed former New Orleans Saints defensive back Will Smith was a simple case of road rage or part of a more elaborate revenge plot.
Just hours before the deadly confrontation Saturday night, Smith had dinner with former New Orleans police officer Billy Ceravolo and they were pictured together, The New Orleans Advocate reports. The shooting suspect, 28-year-old Cardell Hayes, had sued the city's police department over a 2005 police shooting that killed his father, naming Ceravolo as one of the defendants.
The suit was settled in 2011. Hayes' attorney described the settlement as "large," the Advocate adds.
Also Sunday, court documents revealed Smith, 34, was shot in the back and side.
Police said they had no indication that Smith and Hayes knew each other before the shooting, which unfolded after Hayes rear-ended the athlete's car. A court magistrate set a $1 million bond for Hayes.
Prosecutors have 60 days to decide whether to charge him formally with murder.
Mike McGlynn, who played with the Saints during the 2015 season, told Fox News Smith's death casts light on the issue of gun violence in New Orleans. "When I woke up yesterday morning and saw the killing and murder of Will Smith, it hit me hard. It just made me think about the problems and things that are happening in the city of New Orleans now, and something needs to change."
Hayes' Humvee H2 rear-ended Smith's Mercedes G63 around 11:30 p.m. Saturday in the upscale Lower Garden District, pushing it into a Chevrolet Impala driven by two of Smith's acquaintances. The two argued, and Hayes shot both Smith and Smith's wife, Racquel, police said. She was taken to a hospital with a leg wound.
Defense attorney John Fuller asked for low bond Sunday night, noting that Hayes had waited for police, owns a towing business and is raising his 5-year-old son. Magistrate Brigid Collins said she understood but, according to the warrant, "I've also got a gentleman who was shot in the back."
Smith's playing days ended in 2014 after a decade with the Saints. He and his wife, who have three children, had been at the French Quarter festival, which features local music and food, in the hours before the shooting. He posted a photo of himself and his wife on Twitter and Instagram with the caption: "Having a blast at the #fqf2016 @FrenchQuarterFest."
The crash that police said touched off the deadly confrontation was the second within moments, Fuller added.
He said Hayes ran into the back of Smith's Mercedes while following a hit-and-run driver who had rear-ended his Humvee and sped off. Fuller wouldn't say whether Hayes identified the Mercedes as that vehicle.
Hayes is not guilty of murder, and the story is more complex than the police account, Fuller said after the hearing. He said Hayes called 911 after he was hit and convinced a witness who was about to leave to remain and talk to police.
Police spokesman Tyler Gamble told The Associated Press in an email Sunday that he had no immediate information about the witness or the 911 call.
Online court records show Hayes pleaded guilty in 2014 to one count each of possessing an illegal weapon and possessing drug paraphernalia.
The gun he had Sunday was legal, Fuller said, noting that police didn't accuse him of any weapons charge. Gamble said the gun hadn't been reported stolen, but tracing its actual history takes more time.
Smith was beloved by fans for his role in New Orleans' 2009 Super Bowl championship, though the defensive captain also was at the center of the NFL's bounty probe in 2012, the last year he played in an NFL regular season game.
The league concluded that Smith and fellow defensive captain Jonathan Vilma helped run a locker-room pool that paid cash bonuses for heavy and even injurious hits.
Smith successfully appealed a four-game suspension, though coach Sean Payton was suspended the entire 2012 season.
A year earlier, however, Smith served a two-game suspension for using a weight-loss product that included a diuretic banned by the league for masking steroid use.
Smith, a native of Queens, New York, played for Ohio State's 2002 national championship team and graduated in 2005 with a degree in criminology.
New Orleans chose him in the first round of the 2004 draft. He led the Saints with a career-high 13 sacks in 2009. Smith's 67 1/2 career sacks rank fourth in Saints history. The New Orleans Saints Hall of Fame says Smith had been unanimously voted into the hall last month.
Off the field, Smith established a foundation "to motivate, educate and provide opportunities for women and children."
The Smith family said in a statement Sunday that they were thankful for the outpouring of support but requested privacy as they grieve.
The Associated Press contributed to this report.