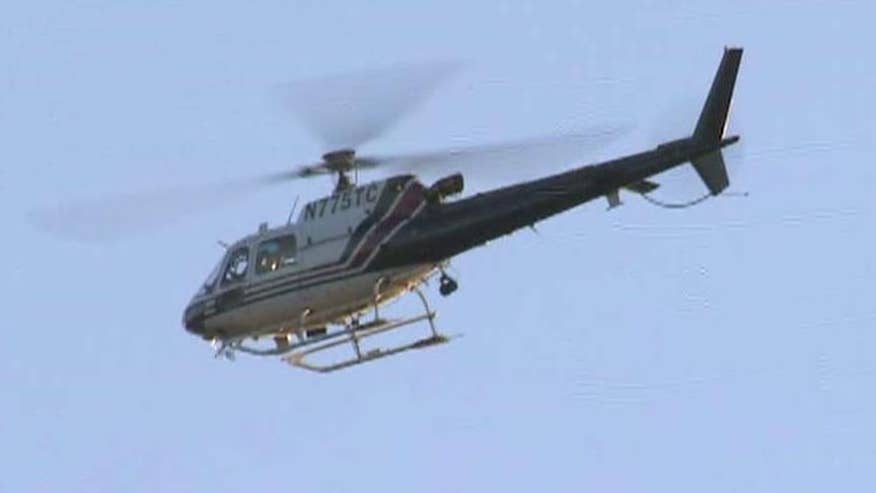 An accused killer who escaped from a Washington state psychiatric hospital Wednesday night was spotted at his parents' house in Spokane Thursday before fleeing when his mother called 911, investigators revealed.
The Spokane County Sheriff's Office said Thursday Anthony Garver is believed to still be in the area, according to Q13 Fox. Surveillance footage showed Garver buying a Greyhound Bus ticket for Spokane at about 8 p.m. Wednesday in Seattle, Lakewood police said.
The sheriff's office said Garver arrived in Spokane early Thursday morning and showed up at his parents' home at around 3:30 p.m. Garver's mother alerted authorities when she saw him, Q13 Fox reported.
Deputies launched a massive manhunt in a wooded area of Spokane's East Valley with the assistance of U.S. Marshals, a SWAT team, four K-9s and two helicopters. Q13 Fox reported that as of 8:30 p.m. that they hadn't located Garver and the search was being suspended for the rest of the night.
Spokane County Sheriff Ozzie Knezovich described the search as "a pretty intense situation."
According to The Spokesman-Review, police fear that Garver may have a hidden cache of weapons in the area.
Garver was charged in 2013 with tying a 20-year-old woman to her bed with electrical cords, stabbing her 24 times in the chest and slashing her throat, Snohomish County Assistant Prosecutor Craig Matheson said.
Garver, 28, escaped Western State Hospital with Mark Alexander Adams, 58, a patient who had been accused of domestic assault in 2014. Adams was captured earlier Thursday outside Des Moines Gospel Church without a fight, officials said.
Garver's lawyer, Jon Scott, said he hopes Garver "is found quickly and safely."
Garver, who also has a history of running from authorities, was moved to a lower-security unit of the state's largest psychiatric hospital after a judge said treatment to prepare him to face criminal charges was not working.
The escape is the latest in a litany of problems at the 800-bed hospital south of Tacoma, where violent assaults on both staff and patients have occurred.
U.S. regulators have repeatedly cited the facility over safety concerns and threatened to cut millions in federal funding. The Centers for Medicare and Medicaid Services recently extended the hospital's deadline for fixing the problems from April 1 to May 3.
A federal judge also has said the hospital has failed to provide timely competency services to mentally ill people charged with crimes.
Patients in the hospital's lower-security unit are checked every hour, Reyes said. Garver and Adams were not placed in the high-security unit because a judge granted a state request to hold them as a danger to themselves or others after treatment failed to restore their ability to understand the criminal charges against them.
Officials are conducting a safety review of the hospital and will bring in outside experts to help, Reyes said.
"We can never have too many fresh eyes reviewing a situation as serious as this," Reyes said in a statement.
Washington Gov. Jay Inslee vowed to find out how anyone could've escaped the secure room Garver was in.
"We have an investigation that's going on at the hospital to understand the circumstances of this," he said.
The state has tried to fix some of the problems by increasing funding to hire more workers. But the hospital has struggled with recruiting and retaining staffers.
Wednesday's brazen escape by the two men wasn't the first time someone escaped from Western State Hospital, Q13 Fox reported. Another patient slipped through the gymnasium door in 2011, but was later caught.
Police have said that Garver is considered dangerous and warned everyone not to approach him. Anyone who sees him is encouraged to call 911.
The Associated Press contributed to this report.