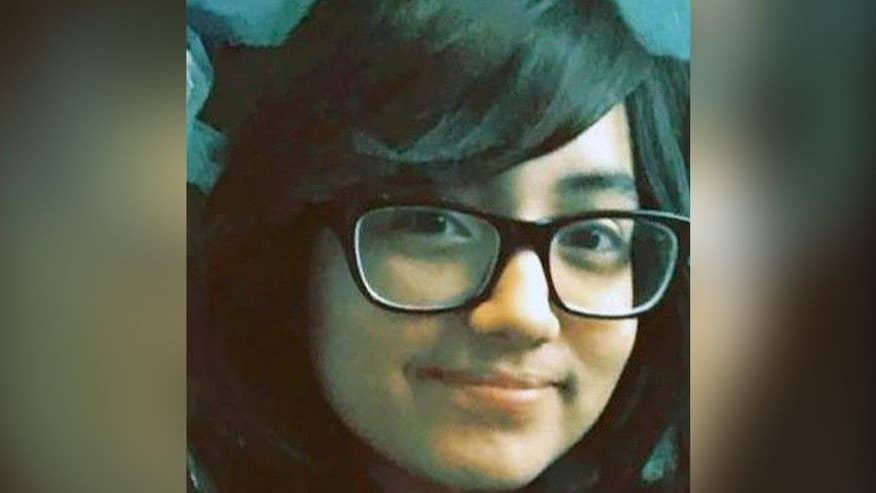 A Texas teenager is "in grave or immediate danger," authorities said Tuesday amid fears that she was with her father when he was killed and his burned body dumped near a ditch.
The FBI has joined the investigation into the disappearance of 13-year-old Adriana Coronado of Katy, who was last seen Saturday. An Amber Alert was issued Monday, which said authorities are hunting for an unknown suspect in connection with her abduction.
The body of Caesar Vladimir Coronado, Adriana's father, was discovered Sunday in Walker County, according to The Associated Press. Authorities believe the man was shot and his burned pickup truck was located near Conroe, about 45 miles south of where the body was found.
"Please return my daughter back cause I'm dying with hurt," Coronado's mom told KHOU from Mexico.
As police were investigating the homicide of Caesar Vladimir Coronado, they obtained information leading them to believe that the welfare and whereabouts of Adriana were of great concern, KLTV reports. The Amber Alert said the teenager is "believed to be in grave or immediate danger."
"Without my daughter, I don't want to live anymore," said her mother, who is in Mexico recovering from surgery, according to a friend of Adriana's.
The mother – whose identity was not revealed -- said her husband had no known enemies.
Adriana, who was a freshman at Mayde Creek High School, was supposed to host a girl's day at her apartment in Katy on Saturday, but never returned calls.
"We are like something's wrong because she's always on her phone," Eduardo Revuelta, a friend, told KHOU. "Why wouldn't you answer us?"
The mother also said she spoke to her husband and daughter on the phone Friday night, while the two were together, and she did not get the impression that anything was wrong, Click2Houston reported.
Adriana is described as Hispanic, 5-feet-tall with black hair and brown eyes, and weighing 105 pounds.
Anyone with information on her whereabouts is urged to contact the Walker County Sheriff's Office at 936-435-2400.
The Associated Press contributed to this report.