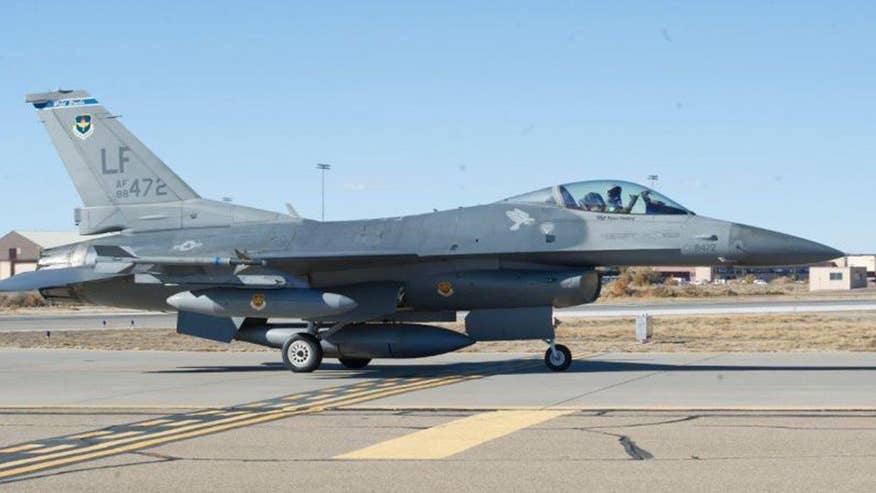 Human remains have been found at the site where an F-16 fighter jet crashed Thursday in northwestern Arizona.
A statement from Luke Air Force Base said a coroner was expected to determine whether the remains were those of the Taiwanese air force student pilot who was flying the plane when it went down.
However, base commanding officer Brig. Gen. Scott Pleus said he was led to believe the pilot did not survive the Bagdad, Ariz. accident.
"However, until we have 100 percent confirmation of his condition, we will continue our search-and-rescue efforts," Pleus said.
The student was the only person aboard the jet. A U.S. Air Force instructor pilot was flying in another F-16.
Air Force officials said the jet was assigned to the 56th Fighter Wing at Luke Air Force Base. It crashed around 8:45 a.m. local time. The crash site was located at around 12:45 p.m. Officials suggested that the remote location and rugged terrain may have made it harder to reach the scene.
The student pilot was being trained in a "high G[-force] maneuver between two aircraft in an air-to-air fight," Pleus said. The pilot's instructor was in a separate aircraft.
The pilot was one of a number of foreign airmen who train at Luke, Pleus said. Taiwanese officials have been notified of the accident.
Luke spokeswoman 1st Lt. Tanya Wren said the cause of the crash isn't known and no other information was immediately available.
Bagdad is about 85 miles northwest of the base in Glendale. The 56th Fighter Wing is home to nearly 140 F-16s and 24 squadrons, the largest fighter wing in the Air Force.
Fox News' Jennifer Griffin, Lucas Tomlinson and The Associated Press contributed to this report.
Click for more from AZCentral.com.