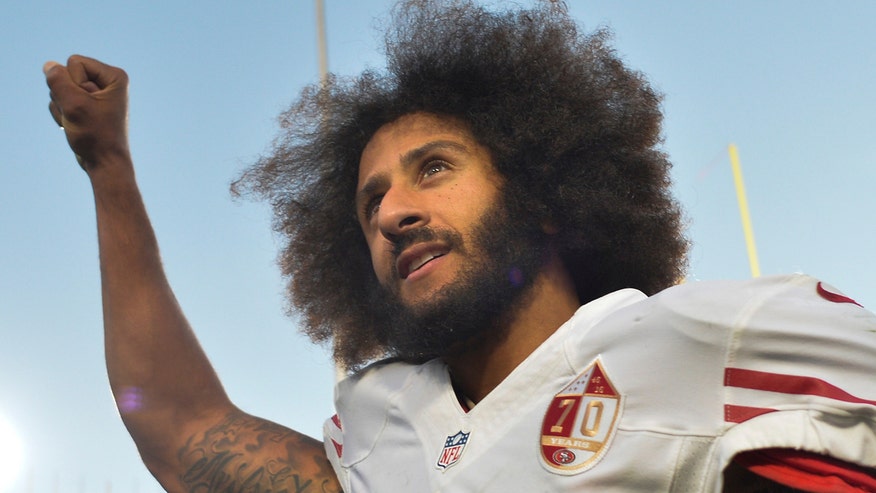 NFL great Joe Theismann said Tuesday that he finds it "hard to believe" that 49ers quarterback Colin Kaepernick is in any way worthy of receiving a team award for inspirational and courageous play.
Kaepernick – whose team finished the season with a 2-14 record – was criticized all year for kneeling during the National Anthem in protest of police brutality and racial inequality across the U.S.
US ADMIRAL CALLS OUT KAEPERNICK

"You are a 2-and-14 football team. He has won one football game," Theismann said on Fox News' 'Outnumbered' Tuesday. "What has he inspired?"
The Len Eshmont Award – which has previously gone to such 49ers greats as Joe Montana, Steve Young and Jerry Rice – is described by the team as its "most prestigious annual honor," that "has been given each year to the 49ers player who best exemplifies the 'inspirational and courageous play' of Len Eshmont."
KAEPERNICK WILL SIT THROUGH ANTHEM UNTIL THERE IS CHANGE

Eshmont, a member of the original 49ers team in 1946, scored the first touchdown in team history. Kaepernick received the award after earning votes from team members.
Theismann said he would like to see NFL Commissioner Roger Goodell "take a stance" and follow an NBA rule that requires its athletes to stand during the playing of the National Anthem.
"It's about those that have fought and served and died. It's about the police officers that defend our lives," Theismann said.
"Everyone has a right to express their opinion, but not in the workplace," he added.