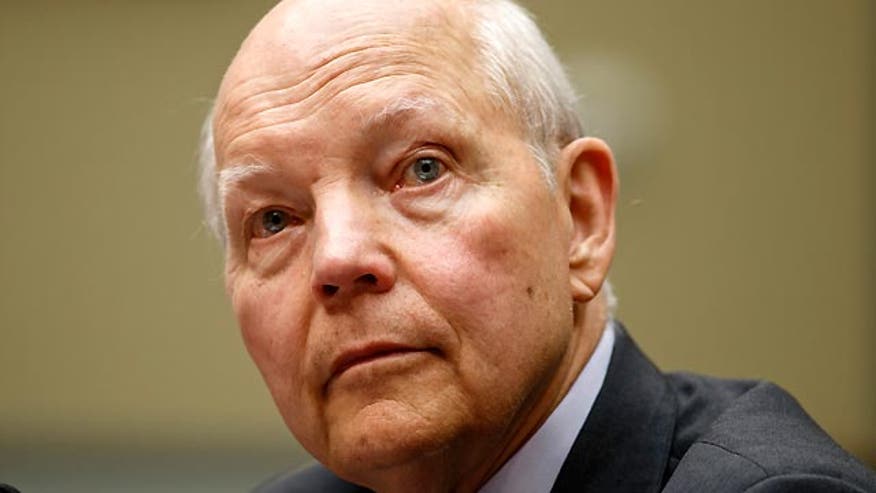 Also...
Rebekah Brooks Acquitted
Thanking the Koch Brothers
A Question of 'Trust': Are the National Media Downplaying the IRS Scandal?
It was an epic rant by Joe Scarborough, a searing indictment of the mainstream media.
The fiasco over the missing IRS emails is exploding, but the host of "Morning Joe" looked at his morning papers and was mightily displeased.
The New York Times, in particular, which is studied with Talmudic intensity in Manhattan, aroused Joe's ire yesterday by sticking the IRS story on an inside page—while giving Page 1 display to a "second" bridge scandal involving Chris Christie's administration.
"Is it possible that the New York Times and Washington Post are not putting on the front page of their newspapers the fact that an internal investigation has been launched against the IRS on the most shady behavior, and yet they put the Pulaski sky bridge whatever on page A-1?" Scarborough thundered on his MSNBC show. "This is garbage."
He also called it a "scam," saying: "This is why conservatives don't trust national newspapers. It's why they don't trust broadcast news. There's a double standard and you can see it on every broadcast. You can see it on the front page of every major newspaper. This is why we don't trust the national news outlets, because they are so biased and slanted."
Take into account, of course, that Scarborough is a former Republican congressman. And there are certain factors that must be considered here. But given the resonance of this story—the agency that demands taxpayers keep meticulous records somehow loses thousands of records, coupled with an arrogant commissioner--I do think the MSM are underplaying it.
There may be a tendency among some in the media to dismiss the story as partisan because of the GOP-led hearings. There have been three separate hearings covering similar ground since Friday, and lawmakers such as Darrell Issa have scolded and belittled top IRS officials.
But Commissioner John Koskinen hasn't helped his side with his in-your-face style of testimony and not an ounce of contrition over the loss of Lois Lerner's emails. (It also doesn't help the optics that he's a major Democratic donor.) Even Democratic Sen. Claire McCaskill said on MSNBC, "This guy did a terrible job being arrogant…We all think of the IRS as being arrogant, and he kind of confirmed that."
National Journal columnist Ron Fournier told CNN, "I now realize how naive I was to give the administration the benefit of the doubt. This needs to be investigated by an independent prosecutor."
The original scandal—the IRS targeting more conservative activist groups than liberal ones for special tax scrutiny—is by now an old one. No smoking gun has emerged to show that White House officials ordered the Cincinnati office to conduct partisan investigations.
But this sure has the whiff of a coverup. Lerner pleads the Fifth. Her emails before June 2011 go missing, and the IRS chief doesn't tell Congress about the full scope of the problem. There is real-time evidence that she and others suffered from a large-scale computer crash, but couldn't dogged investigators either recover the messages or find them from those with whom Lerner was corresponding?
It's not that the media aren't covering the latest IRS follies; I saw plenty of coverage yesterday on MSNBC and CNN as well as Fox. The Times and the Post ran stories on Issa's hearing, just not on the front page.
By the way, with so many people reading news online, the question of which stories make Page 1 is far less critical than it used to be. But such decisions still reflect the editors' judgment on what's important and provide at least print readers with visual cues.
The NYT story focuses on the rhetoric between the parties:
"Representative Darrell Issa of California, the Republican who is leading one of the investigations into the Internal Revenue Service's scrutiny of Tea Party groups, accused the I.R.S. commissioner on Monday of lying, an allegation that only deepened the partisan mistrust about the motivations behind the numerous congressional inquiries into the matter."
The WP leads with the commish's denial:
"Internal Revenue Service Commissioner John Koskinen on Monday denied telling the White House about missing emails that could serve as evidence in the IRS targeting investigation."
As for the Christie story that ticked off Scarborough, it's a bit dense and hard to follow:
"Investigations into the Christie administration and the Port Authority of New York and New Jersey have zeroed in on possible securities law violations stemming from a $1.8 billion road repair agreement in 2011, according to people briefed on the matter."
It's no George Washington Bridge scandal, that's for sure. But since Christie is governor of New Jersey, it's a local story for the Times, and a scoop based on documents obtained by the paper.
Still, as I said on "Media Buzz" this week, I also have to question Friday's decision by the Times and Post to give front-page treatment to an investigation involving Scott Walker. Prosecutors said in court papers that the Wisconsin governor was involved in illegal fundraising coordination with conservative groups during his recall election. But since no charges have been filed and two judges have ruled no laws were broken, I doubt the papers would have fronted the story if Walker were not weighing a run for the GOP presidential nomination.
Given this track record, the nation's top newspapers need to be careful about appearing to downplay a story that has created such a stench for the tax agency everyone loves to hate.
Rebekah Brooks Acquitted
She has been vilified around the world as the face of the News of the World phone-hacking scandal. But after a trial that dragged on for eight months in London, Rebekah Brooks was acquitted of all charges.
Andy Coulson, her successor as editor of News of the World, was convicted of conspiring to hack phones. And that has political resonance because he went on to become Prime Minister David Cameron's communications director.
The hacking scandal was an embarrassment for Rupert Murdoch's media empire, which includes Fox News, and led him not just to apologize but to close down the British tabloid.
Brooks and her husband, who was also cleared, made no comment outside the London court. And it's true that she presided over a newsroom where it was commonplace to hack into the voice mails of celebrities and royals, as well as ordinary people, in search of scoops. But the court found that Brooks had no criminal liability.
According to the Guardian, "Brooks's acquittal will provide some relief for Rupert Murdoch, who once described the woman who rose to be chief executive of his London based News International operation his 'top priority' when the phone hacking crisis first broke in the summer of 2011."
The conviction of Coulson, who was having an affair with Brooks, prompted the prime minister to apologize: "I am extremely sorry I employed him. It was the wrong decision," Cameron said.
In his "full and frank apology," Cameron added: "I asked him questions, if he knew about phone hacking, and he said he didn't and I accepted those assurances and I gave him the job."
As for Brooks, who was so well-wired that she received informal advice from Tony Blair during the proceedings, the Independent says: "She has avoided the fate of being cast as the arch-villainess of any film adaptations of the hacking scandal."
Thanking the Koch Brothers
MSNBC's Lawrence O'Donnell returned to the air the other day after a terrible car accident in which he had to relearn how to walk.
Describing his entry to New York's Hospital for Special Surgery, to which one of the Koch brothers has donated $25 million, O'Donnell told viewers: "The first words I saw when I rolled into the hospital was the name David H. Koch. Yes, that David Koch…Now brace yourselves please for the first positive words said about David Koch on this program."
As Politico noted, O'Donnell said: "You can be outraged by what the Koch brothers do with their money in politics and you can appreciate what they contribute to hospitals and medical research, and you can do that at the same time and still retain an ability to function."
Click for more from Media Buzz.
Howard Kurtz is a Fox News analyst and the host of "MediaBuzz" (Sundays 11 a.m.). He is the author of five books and is based in Washington. Follow him at @HowardKurtz. Click here for more information on Howard Kurtz.