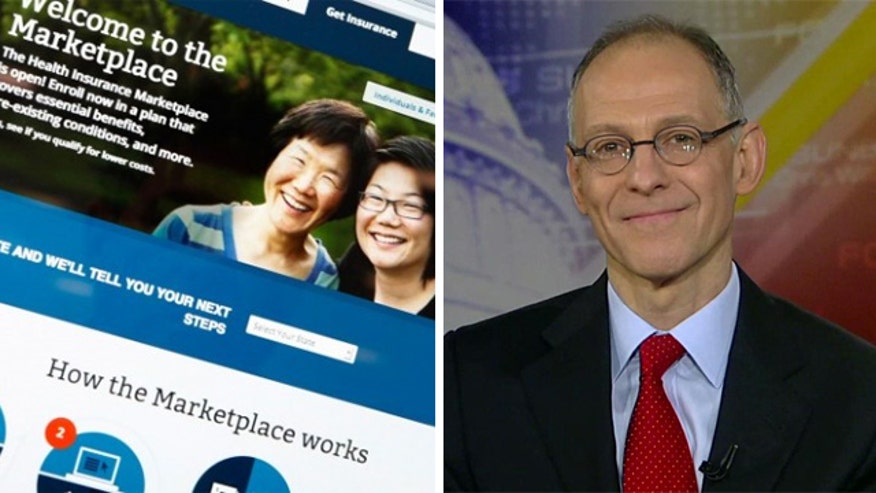 Another Sunday, another round of defending ObamaCare.
Zeke Emanuel, a former White House adviser and ObamaCare architect, took to Fox News Sunday with Chris Wallace to defend the president's plan, and this time offered a clarification. Here's part of the transcript:
EZEKIEL EMANUEL: The president never said you were going to have unlimited choice of any doctor in the country you want to go to.

WALLACE: Wait. No. He asked a question. If you like your doctor, you can keep your doctor. Did he not say that, sir?

EMANUEL: He didn't say you could have unlimited choice.
Real Clear Politics Executive Editor Tom Bevan, and Commentary's John Podhoretz say Emanuel didn't do himself any favors.
Zeke Emanuel: what Obama meant was, if you like your doctor you can pay more to keep your doctor. http://t.co/v2dtXhF4HQ

— Tom Bevan (@TomBevanRCP) December 8, 2013
Wow. Zeke Emanuel is a very good man, but this is water he shouldn't try to carry. http://t.co/3LQTqQhc21

— John Podhoretz (@jpodhoretz) December 8, 2013
And Emanuel, brother to former White House chief of staff, now Chicago mayor, Rahm Emanuel, decried the failure of a properly communicated rollout, saying it lacked a big "PR campaign."
But the communications director for Speaker Boehner isn't buying it.
Zeke Emanuel laments lack of a "PR campaign" for Obamacare on #FNS. Yeah, Obamacare is totally flying under the radar.

— Rory Cooper (@rorycooper) December 8, 2013
***
You'd think the "rosier than expected" unemployment report would be good news for the economy, right? Maybe not. New York Times' Binyamin Appelbaum argues against it.
"In recent years a lot of people have given up on looking for work. As a result, the unemployment rate has gradually declined from 10 percent to 7 percent even as the share of American adults who are working has remained basically steady."
NowThisNews' Katharine Zaleski calls out news outlets for taking the bait.
The monthly jobs report is kind of a joke. Most news orgs know that, but fail to explain why. http://t.co/T6aLAq4OZK

— Katharine Zaleski (@kzaleski) December 8, 2013
***
Honoring Nelson Mandela is proving problematic for some conservative pols.
Rick Santorum and Newt Gingrich have stepped in hot water with critics for their comments.
On Fox News with Bill O'Reilly Thursday, Santorum equated Mandela's efforts to fight apartheid to the battle Republicans are waging to repeal ObamaCare.
And the prize for the worst Mandela tribute goes to... Rick Santorum. http://t.co/srKTbZJEky

— The Week (@TheWeek) December 8, 2013
The brouhaha over Gingrich's words began on Twitter with his two-part tweet:
President Nelson Mandela was one of the greatest leaders of our lifetime. He will be an inspiration for generations to come (1/2)

— Newt Gingrich (@newtgingrich) December 6, 2013
(2/2) and an historic leader worth studying for as long as people want to learn about greatness in serving others. http://t.co/hRwH3EGYlK

— Newt Gingrich (@newtgingrich) December 6, 2013
When Gingrich was met with backlash from his supporters – one commenter called Mandela a "commie murderer" – the former House speaker defended himself on his website.
"I was surprised by the hostility and vehemence of some of the people who reacted to me saying a kind word about a unique historic figure. So let me say to those conservatives who don't want to honor Nelson Mandela, what would you have done?"
Gingrich Defends His Praise Of Mandela http://t.co/mvV0ebvU1U

— Vaughn Sterling (@vplus) December 8, 2013
And in Sunday's New York Times, Op-Ed columnist Bill Keller weighed in on Mandela's communist ties by asking: "Does it matter?" Nick Confessore, political reporter for the Times, praised both Keller and Gingrich.
Two thoughtful discussions of Mandela's Communist affiliations; @nytkeller http://t.co/ytUwwvrcM6 and @newtgingrich http://t.co/Ns2S4asbdr

— Nick Confessore (@nickconfessore) December 8, 2013
***
On Rand Paul's prospects for the next election, this sounds more like a yes than a maybe…
.@SenRandPaul on a potential Presidential Run in 2016: The thought has crossed my mind and I'm seriously considering it #FNS

— FoxNewsSunday (@FoxNewsSunday) December 8, 2013
Screeeech. Hold on just a minute, sez Rand's wife, Kelley.
Fox News Contributor Jedediah Bila weighs in:
Can't blame her. Wouldn't want my hubby to run either. "Rand Paul: Wife doesn't want me to run for president in 2016" http://t.co/RMw5eVdXSA

— Jedediah Bila (@JedediahBila) December 8, 2013
Seems we'll soon see who really wears the pants in the Paul family.
***
Watch Lauren every Sunday on #MediaBuzz at 11 a.m. and 5 p.m. ET.
If you'd like to recommend your favorite political tweets, email laurenashburnFNC@yahoo.com or send her a tweet @laurenashburn with the hashtag #TwitterTalk.
Lauren Ashburn joined the network in 2013 and currently serves as a Washington-based contributor for FOX News Channel (FNC). On MediaBuzz with Howard Kurtz, Ashburn contributes commentary on the state of the news media shaping current events, their role in politics, cultures, business, and tech. Click here for more information on Lauren Ashburn.