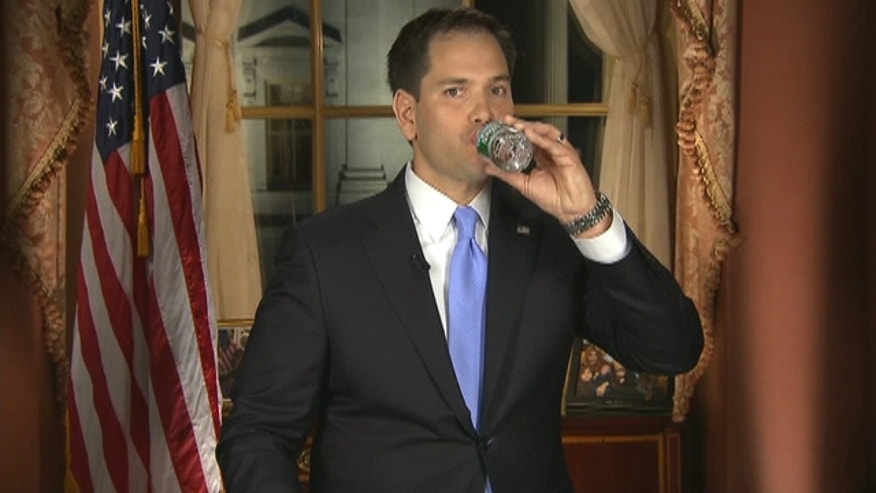 It was billed as Sen. Marco Rubio's watershed moment.
His audition for a potential Presidential run in 2016.
But no one expected the water break moment of the year.
During the Florida Senator's much anticipated Republican response to President Barack Obama's State of the Union Tuesday night, Rubio spoke of the problems of big government, but it was his small sip of water in the middle of his live speech that was all the buzz with Latinos on social media.
I figured I was better off taking the water, and taking the hit for it than being unable to pronounce my words at the end of it.

- Sen. Marco Rubio (R-Fl)
Throughout his speech, Rubio seemed to suffer from a bad case of dry mouth and as soon as he finished, pundits quickly seized on his stumbles as signs of a nervous performance.
While talking about American foreign policy, Rubio quickly wiped his mouth, stumbled on the word "global" and then --20 seconds later -- he made his much-discussed reach for a Poland Spring water bottle.
Rubio quickly eyed the water bottle to his left, looked at the camera, and eyed the bottle again before he bent over, reached for it, and took a sip.
"In the short time I've been here in Washington nothing has frustrated me more then false choices like the ones the President has laid out here tonight," Rubio said before pausing to take a sip.
Wednesday morning, on the Fox News morning show, Fox & Friends, Rubio took the lunge for water in stride.
"I figured I was better off taking the water, and taking the hit for it than being unable to pronounce my words at the end of it," Rubio said. "It had been a long day at work, we had already done an 18 minute recording in Spanish and my mouth got dry, what can I say? But I was happy, overall with what we were able to deliver in the speech."
Trying to beat critics to the punch, Rubio tweeted a picture of his water bottle. And while some pundits poked fun at the moment, others rushed to his defense, noting that it's common to get dry mouth under bright lights and that it's not a big deal.
"So much of it is the setting," Fox News analyst Charles Krauthhammer said. "Here you are in a room, cameras and all that, looking for a glass of water. I think it's a really hard job ... it was an excellent speech but it's a tough spot."
Reaction on Twitter was instantaneous. Hashtags #Waterbottlegate and #Watergate were popular. At least fifteen Rubio water bottle accounts were created on Twitter @Rubioswaterbottl and @marcoswater.
#GOPResponse #SOTU #gop #tcot twitter.com/marcorubio/sta…

— Marco Rubio (@marcorubio) February 13, 2013
Even Marco Rubio is playing Marco Rubio drinking games.

— brad plumer (@bradplumer) February 13, 2013
Marco Rubio: the man you want to have a desperate gulp of water with.

— Paul Begala (@PaulBegala) February 13, 2013
I don't always drink H2O..but when I do, I prefer it be during the most important speech of my career. Stay thirsty my friends. #watergate

— Zodiac Rebel (@ZeddRebel) February 13, 2013
And, on water sip - @marcorubio says "I'm just glad the water was nearby; I don't know what I would've done without it" @cbsthismorning

— Norah O'Donnell (@NorahODonnell) February 13, 2013
Jesus walked on water. Rubio drank it #saviors (ok, done)

— Sam Stein (@samsteinhp) February 13, 2013
I sympathize with Marco Rubio because I sometimes get dry-mouth during speeches. They should have had a glass of water nearby, seriously.

— Jeffrey Goldberg (@JeffreyGoldberg) February 13, 2013
Marco Rubio boldly tries to redefine the GOP and the biggest "news" about his SOTU rebuttal is his sip of water? Give me a break.

— Suzy Welch (@SuzyWelch) February 13, 2013
So the President's SOTU was so dynamic, enthralling and earth shaking we're talking about Marco Rubio's water?

— Melissa Clouthier (@MelissaTweets) February 13, 2013
What's more ridiculous? That Marco Rubio lunged for a mini water bottle or that due to that lunge he will never be President?

— Andrew Pettit (@AndrewPettit) February 13, 2013
Follow Reporter Bryan Llenas on Twitter @Bryan_Llenas.
Like us on Facebook
Follow us on Twitter & Instagram
Bryan Llenas currently serves as a New York-based correspondent for Fox News Channel (FNC). Click here for more information on Bryan Llenas. Follow him on Twitter @BryanLlenas.