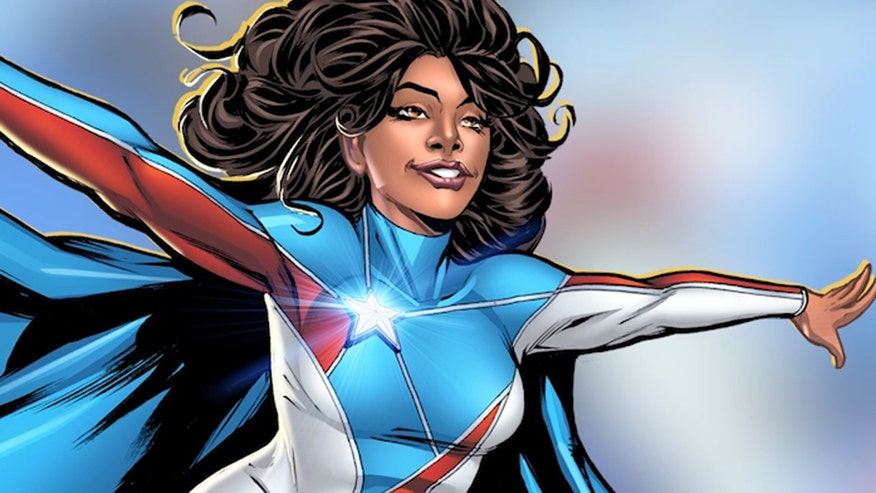 NEW YORK – In case you didn't know, Hispanics now have their very own superhero – she is a mighty Latina come all the way from the Isla del Encanto.
Edgardo Miranda-Rodriguez, a Puerto Rican himself, vividly recalls the response from young girls and boys when they saw him and his brand new creation, La Borinqueña, walking up Fifth Avenue during this summer's Puerto Rican Day Parade.
It was a character that was proud to be Puerto Rican. It was a character emblazoned with a costume that was screaming patriotism.

- Edgardo Miranda-Rodriguez
He said the "little brown and black little girls and boys" threw their arms up because they wanted to hug a superhero that looked like them and wore a costume inspired by the flag they were waving. It was "awe-inspiring," he told Fox News Latino in his Brooklyn atelier.
"We've been waiting for this story. Our community has been waiting for this story," he said.
He added: "What drew people to her wasn't the fact that it was a comic book – there is no comic book yet – it was what she represented, it was what she looked like. It was a character that was proud to be Puerto Rican. It was a character emblazoned with a costume that was screaming patriotism."
La Borinqueña is the first Latina superwoman and was influenced by the history of the U.S. territory and the ongoing financial struggles currently plaguing it. Her name comes from Puerto Rico's national anthem of the same title.
Miranda-Rodriguez, who is the editor-in-chief for DMC comic-book imprint started by Run-DMC's Darryl McDaniels, took inspiration from the 1868 revolutionary version of the song by Lola Rodriguez de Tio, which he said it pretty much sounds like a superhero theme song.
"Come, Boricuas, come now, since freedom awaits us anxiously!" he said in Spanish. "The whole song is like fighting for social justice."
The Williamsburg-based artist said the character came about at the request of the organizers of the 59th annual Puerto Rican Day Parade, with which he ended up partnering. The inspiration, he said, came through another Puerto Rican Miranda – Tony winning playwright Lin-Manuel Miranda – whom he admires for speaking out to shine a light on the ongoing struggles on the island. [Miranda-Rodriguez said they are not related and he cannot get anyone tickets for 'Hamilton'.]
"There needs to be more of us that speak out," he said. "I said, 'I'm going to do something crazy.'"
"I saw it as an opportunity for Puerto Ricans to pull back and recognize that their own super power comes from themselves, comes from their heritage, comes from their identity," Miranda-Rodriguez said.
"When I see La Borinqueña, I think about so many Puerto Rican artists, authors, scholars, scientists, activists who have stood up to represent ourselves in the face of adversity. It's a character that I've created for many of us. We needed a symbol more than ever that spoke to us and that unapologetic said 'Estamos presentes' (We are present)."
For the design, the artist reached to other illustrators and told them to make her powerful and bold.
"I said she needs to be strong – she's not popping her nalgas, she's not doing anything cute – and every image that I ever created about her, I would literally tell people 'Channel strength, channel confidence, channel pride' when you look at these images," he said.
As for the story, Miranda-Rodriguez didn't tease much of it but said the first issue of La Borinqueña will be released on Dec. 22 – the 121st birthday of the Puerto Rican flag. Fans can preorder it now.
"I think the character has always been here, and I think we just needed something to say 'Somos boricuas y estamos presentes.' We're here and we're not going anywhere," he said, adding "Hispanic Heritage Month is a great opportunity to remind people that we are here and that our culture is as important to this American identity that makes us all Americans… And that is what is important to celebrate."
Lucia I. Suarez Sang is a Reporter for FoxNews.com.
Follow her on Twitter @luciasuarezsang