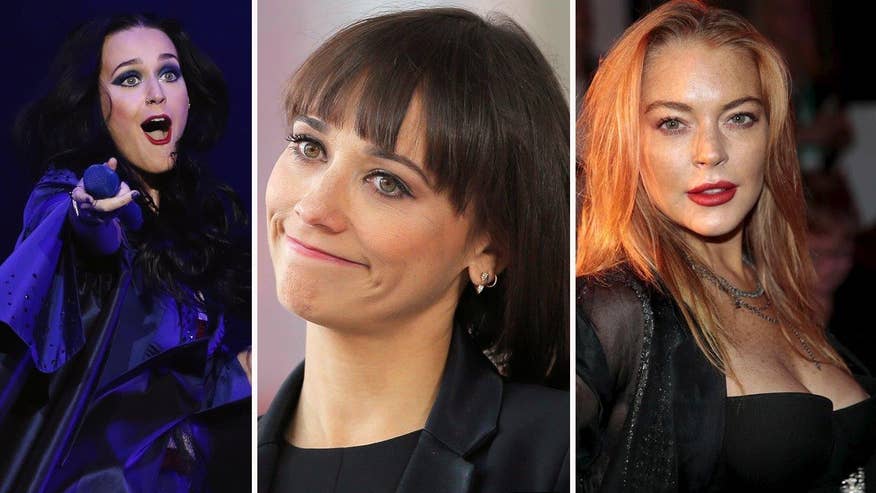 Many stars criticized Donald Trump for suggesting he might not accept the election results. But now it's Hollywood who is having trouble accepting the results since the real estate mogul was elected president.
Lady Gaga, for one, is pushing for her fans to sign a series of petitions that would hand the presidency over to Hillary Clinton.
If you feel scared about the current state of American politics and Whitehouse sign this petition: https://t.co/2K88hLD8hn

— #CountryOfKindness (@ladygaga) November 10, 2016
Meanwhile, Katy Perry, went as far as to suggest a "revolution is coming."
Fight for what is RIGHT.

— KATY PERRY (@katyperry) November 9, 2016
THE REVOLUTION IS COMING.

— KATY PERRY (@katyperry) November 9, 2016
Others like Sofia Bush wrote it's time to "fight" and that her fans should "never give in." And some celebs encouraged protests and used the hashtag "#notmypresident."
For anyone telling us to "calm down." You've made this racist bed, America. We have to lay in it.

I'm ready to fight for our rights. https://t.co/IQamzxpcdm

— Sophia Bush (@SophiaBush) November 9, 2016
A New Fire Is Lit 🔥 We Never Give Up. 🔥We Never Give In' 🇺🇸 pic.twitter.com/CM4PAnR1nj

— Madonna (@Madonna) November 9, 2016
Retweet if you want a recount

— Lindsay Lohan (@lindsaylohan) November 9, 2016
I am scared. I will fight. Trump will not crush my spirit. Hope fuels the fire in my belly to seek the change I want to see in this country

— Gabrielle Union (@itsgabrielleu) November 9, 2016
Dammit, wasn't just a bad dream #NotMyPresident

— Patrick Gallagher (@PatrickGman) November 9, 2016
I am not afraid. WE WILL RISE. THIS IS OUR CALL TO ACTION. https://t.co/3dqZ5vr5RM

— rose mcgowan (@rosemcgowan) November 9, 2016
The angry part of me: "Blaxit's ON! I'm taking my Thursday nights and I'm OUT. I am OUT!"

The mature part of me: "BLAXIT'S STILL ON!"

— shonda rhimes (@shondarhimes) November 9, 2016
I will never give up on this. I will spend my life fighting for girls to be seen, heard, & valued. Beware a redhead #nastywomenkeepfighting https://t.co/o5n9ViXuIZ

— Jessica Chastain (@jes_chastain) November 9, 2016
If anyone in Los Angeles is organizing a march/protest please let me know. https://t.co/jOWyLKyPr0

— I'm With Her (@Alyssa_Milano) November 9, 2016
You know what we do now? We finish building what we started and we FIGHT BACK! Lift your heads up brothers and sisters.

— Mark Ruffalo (@MarkRuffalo) November 9, 2016
#notmypresident #nevermypresident
https://t.co/QrHxNILFDV

— Rashida Jones (@iamrashidajones) November 9, 2016
Hey anyone know if there are any #notmypresident solidarity meet ups in LA?

— Rowan Blanchard (@rowblanchard) November 9, 2016
It begins. Protest and more protest. My niece in Chicago is already voicing what we all are feeling! #notmypresident pic.twitter.com/6TRCUOTZSU

— Jamie Lee Curtis (@jamieleecurtis) November 10, 2016
However some stars who campaigned hard for Clinton took a different approach, such as Miley Cyrus. The pop star said in a tear-filled video that she would accept Trump as the president.