Thousands Call for Yemeni Leader's Ouster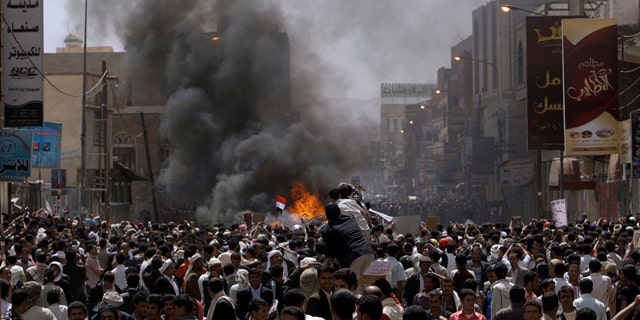 SANAA, Yemen -- Thousands of anti-government protesters rallied across Yemen on Tuesday, burning a car belonging to supporters of President Ali Abdullah Saleh in the capital of Sanaa and chanting for the ruler's ouster.
The target of Egypt-inspired demonstrations for at least 12 days, Saleh has said that he will step down after national elections are held in 2013. But he has rejected protesters' demands that he leave office now.
Saleh told a news conference Monday that he has ordered troops not to fire at anti-government protesters, except in self defense, though medical officials say at least 11 people have been killed in demonstrations.
Still, police seemed to back off slightly in at least one instance Tuesday. Officers stood by as demonstrators marched in the eastern town of al-Shiher, chanting "Down, down with Saleh."
Protesters set fire to a car in Sanaa as thousands rallied at a university campus while hundreds continued to camp out in a nearby square, just the way marchers in Cairo did during the revolt that toppled Egyptian ruler Hosni Mubarak and as demonstrators in Bahrain are now.
Protesters in Yemen set up checkpoints around the capital square and searched those trying to enter.
In Taiz, Yemen's second-largest city, thousands of protesters marched in the Safir square. Activist Ahmed Ghilan said hundreds have been camping in the square for more than a week. They have renamed it "Freedom Square."
In the port city of Aden, schools closed, most government employees were not working and many shops were closed as hundreds gathered for another round of protests.
An opposition spokesman has rebuffed Saleh's offer of dialogue and an influential group of Muslim clerics has called for a national unity government that would lead the country to elections. Saleh has been in power for 32 years.
Saleh's government was already weak before the protests, facing a southern separatist movement and disaffected tribesmen around the country. Saleh has been quietly cooperating with the U.S. in efforts to battle an al-Qaida branch that has taken root in Yemen, but his government exercises limited control in the tribal areas beyond the capital. The U.S. gives Yemen military aid and training.