Riot breaks out at Syrian refugee camp after tents collapse due to weather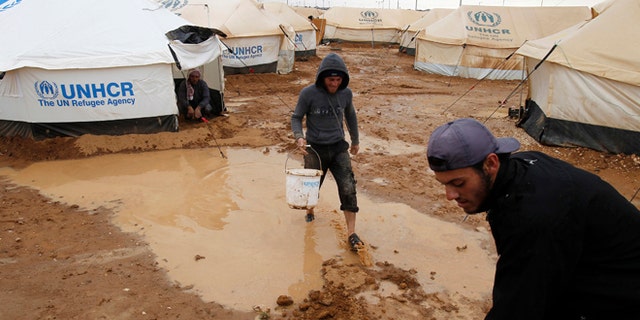 ZAATARI, Jordan – Syrian refugees in a Jordanian camp attacked aid workers with sticks and stones on Tuesday, frustrated after cold, howling winds swept away their tents and torrential rains flooded muddy streets.
Police said seven Jordanian aid workers were injured when they were attacked by dozens of refugees while distributing bread for breakfast.
The refugees may be about to face even deeper misery with warnings of a major snowstorm on Wednesday.
"It is hell -- boiling hot in the summer and freezing cold now," lamented Ahmed Zibi, 45, who said he spent the night watching over his five children when his tent collapsed. "Rain flooded the tent and its shafts submerged and collapsed on us."
The riot broke out after the region's first major winter storm this year hit the Zaatari refugee camp, home to nearly 50,000 refugees, at least half under the age of 18, in Jordan's northern desert.
Inside the camp, large puddles surrounded tents, stranding pregnant women and infants. Some refugees scurried to evacuate their flooded tents or used small buckets to bail out the water, while others made walls of mud to try to keep the water out. Women, children and the elderly took cover in other tents.
Ghazi Sarhan, spokesman for the Jordan Hashemite Charitable Organization, said frustration over the harsh conditions triggered the riot. The charity runs the camp along with the U.N. refugee agency, UNHCR.
Calls from loudspeakers echoed across the camp urging protesters to evacuate muddy streets.
UNHCR says 597,240 refugees have registered or are awaiting registration with the agency in Turkey, Lebanon, Jordan, Iraq and Egypt. Some countries have higher estimates, noting many have found accommodation without registering.
The World Food Program also said Tuesday it is unable to help 1 million Syrians who are going hungry inside Syria.
WFP spokeswoman Elisabeth Byrs said the agency plans to provide aid to 1.5 million of the 2.5 million Syrians that the Syrian Arab Red Crescent says are internally displaced. But the lack of security and the agency's inability to use the Syrian port of Tartous for its shipment means that a large number of people in the some of the country's hardest hit areas will not get help, she said.
"Our main partner, the Red Cross, is overstretched and has no more capacity to expand further," Byrs said.
Rain was intermittent and the wind had subsided by Tuesday. But the weather service warned a large snowstorm could hit Turkey, Lebanon, Syria, Jordan, Israel and parts of Iraq on Wednesday. Private and public schools throughout Lebanon were closed Tuesday and Wednesday.
Temperatures dipped below freezing overnight and were expected to be similar late Tuesday night into Wednesday. Winds gusted up to about (60 kph) 35 mph overnight.
Fadi Suleiman, 30, said Zaatari camp conditions were "worse than living in Syria," where rebels are fighting a civil war against authoritarian ruler Bashar Assad that has killed some 60,000 in nearly two years of fighting.
"It's one misery after the other as the international community sits idle, doing nothing to help us get rid of the tyrant Assad," he said. "But this one is dangerous: There's a serious storm that could kill children and old people."
The U.N. has registered 128,628 refugees in Jordan, but the Jordanian government says more than 280,000 Syrians have fled to the country since the uprising against Assad began in March 2011.
Zaatari has been the site of several previous violent refugee protests over harsh living conditions. At least 100 Jordanian policemen have been wounded in the riots, according to a Jordanian policeman, who spoke on condition of anonymity because he wasn't authorized to release the information.
The stormy weather also added to the plight of Syrian refugees in Lebanon, where torrential rains and flooding have been wreaking havoc throughout the country.
In the eastern Lebanese town of Marj near the border with Syria, refugees were working on reinforcing their tents after they were flooded, and some blown away by torrential rains and high winds.
The small terrain housing about 40 tents donated by a Saudi charity organization and set up in cooperation with UNHCR houses mostly women and children.
"You tell me, is this a life?" cried Ghalia, who fled with her son to Lebanon after her husband died in shelling of the Damascus neighborhood of Qaboun last year. "We've been driven away from Syria by the war and we cannot afford rent prices in Lebanon. We have nothing but the clothes we brought with us to this tent and now look at us."
Imad al-Shummari, head of the al-Marj municipality, said authorities were helping the refugees reinforce their tents, providing alternative shelter and distributing heaters and extra blankets.
Lebanon has around 175,000 Syrian refugees according to U.N. figures, 200,000 according to government estimates. Most are staying in schools and apartments but a few are staying in tents they pitched near the border with Syria.
In Turkey, the weather was cold with slight rain, but no snow.
Turkey's Disaster and Emergency Management Authority, which oversees the Syrian refugee camps, said authorities have been preparing for winter conditions since August. An official from the unit in charge of the preparations said all refugees were given winter boots, warm clothing, coats and blankets in November.
"Almost all of the tents" were either revamped and made winter proof or replaced with new ones able to withstand winter conditions, he said. All of the tents have heaters, according to the official who also spoke on condition of anonymity, in line with the government rules.
Mohammed al-Abed, a 30-year-old Syrian refugee in Turkey's Yayladagi camp said the tents were equipped with heaters, but the bathrooms and lavatories were about 300-500 meters (yards) away.
"There is no hot water. People are getting sick especially the children," he said.
"It's a miserable situation, but I am ashamed to complain because we're much better off than our brothers trapped in Syria," he said, citing the Atmeh tent camp on the Syrian side of the border. "At least we are better equipped with some heaters and blankets. They have nothing, no heating, no electricity. Nothing."