Report: Mexico Casino Had its Doors Chained During Arson that Killed 52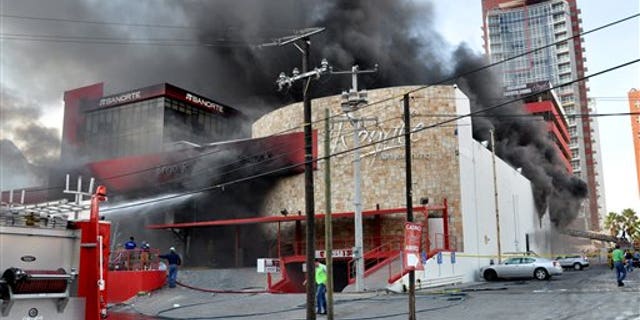 It really was a deathtrap.
A report in El Universal newspaper says that the doors to a Mexico casino were chained when thugs poured gasoline and lit it on fire, killing 52.
According to testimony from Jesús Gerardo, a Monterrey firefighter, rescue efforts were hampered because of the situation with the doors.
Mexico has inspected hundreds of casinos since the tragedy. The city of Guadalajara closed five of the 10 casinos in Mexico's second-largest city after finding they lacked adequate security measures.
The five suspects, who are members of the Los Zetas drug cartel, were arrested in connection with the senseless attack and said that they did not plan to kill anyone and only wanted to scare the establishment's owners.
Mexico President Felipe Calderón, accompanied by first lady Margarita Zavala and several members of his security Cabinet, visited the site of the attack on Friday.
The group, dressed in black, arrived in a long motorcade and held a minute of silence outside the burned hulk of the Casino Royale before placing a giant green wreath in the circular driveway leading up to the building.
Calderón then left without saying a word.
Contact Adrian Carrasquillo at Adrian.Carrasquillo@foxnewslatino.com or on Twitter @RealAdrianC.
Follow us on twitter.com/foxnewslatino
Like us at facebook.com/foxnewslatino