Mugabe Tries to Show Strength as Zimbabwe Watches Egypt Uprising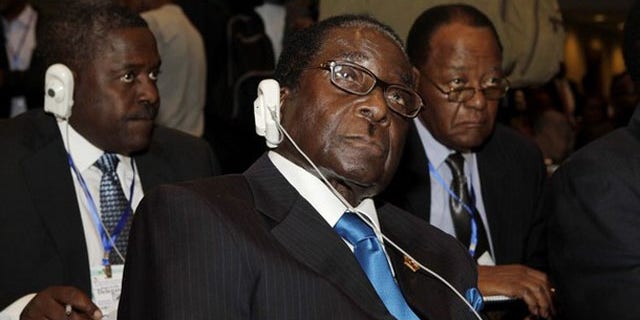 NEWYou can now listen to Fox News articles!
The ripple effect of Egypt's anti-government protests is not only being felt in the Middle East but as far away as Zimbabwe, a country with a similar political situation.
Supporters of Zimbabwean President Robert Mugabe -- an authoritarian ruler who's been in power since 1980 -- are accusing the country's main opposition leader of using the Egypt protests to whip up similar anti-government sentiment in the southern African nation.
On Thursday, Zimbabwean state-run radio cited an exclusive Fox News.com interview with opposition leader Prime Minister Morgan Tsvangirai at the World Economic Forum in Davos, Switzerland last week in which he seemed to encourage his countrymen to follow suit.
When asked about whether the Egypt protests could affect events back home, Tsvangirai said, "when people take their rights and start demanding more rights, there is nothing wrong with that, including in Zimbabwe." So far, there have been no reports of anti-government rallies following Tsvangirai's comments. But in a sign that the ruling clique may want to show its strength in a tumultuous time, at least two pro-Mugabe rallies have been held this week in both the capital, Harare, and Mbare township.
Zimbabwe's 10-year political and economic spiral downward under Mugabe's rule has been widely condemned by the international community, including the United States. Human rights organizations have cited the 86-year-old leader's repeated jailing of opponents, including Tsvangirai, and restrictions on the press and free speech. International media organizations have been banned at various times from reporting within the country. Fox News is currently banned in Zimbabwe.
In its 2009 report on human rights, the State Department said the ruling ZANU-PF Party's, "dominant control and manipulation of the political process through trumped-up charges and arbitrary arrest, intimidation, and corruption effectively negated the right of citizens to change their government."
Tsvangirai, who founded the opposition Movement for Democratic Change (MDC), was sworn in as prime minister in a power-sharing agreement in February 2009, but critics contend his role is largely symbolic and his ability to change the political system still hampered by ZANU-PF.
Mugabe has promised new elections this year.
In spite of the ban on some foreign media, international broadcasters like Al Jazeera, BBC and CNN are permitted to broadcast within the country. As a result, many Zimbabweans have been watching the events in Egypt unfold. The ruling party has responded to the coverage by stating that the Egypt protests are a result of that country's close alliance with the United States, a common target for both the ZANU-PF and Mugabe.