Lottery-Winning Couple Starts a Scholarship Fund for Latinos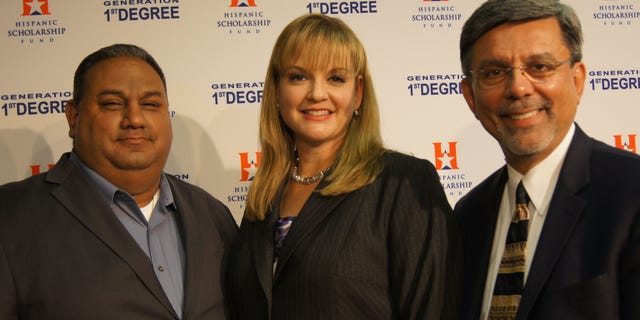 For most lottery winners, giving money away might not be the first thing that comes to mind. But when Jacki and Gilbert Cisneros of Pico Rivera, California, hit a $266 million jackpot with a multi-state lottery ticket, one their first goals was to give back, and how to do it wasn't a hard choice.
"We kind of knew we had wanted to focus on Hispanic education," says Gilbert.
As part of their dream, they wanted to focus on putting a college degree in every Latino household.
And starting with their hometown seemed "an obvious choice for us," says Gilbert.
In a 64,000-person city where only 7.1 percent of adults older than 25 have bachelor's degrees, going to college seems like an ambitious goal and opportunity is limited. For this reason, the couple teamed up with the Hispanic Scholarship Fund and created the "Generation 1st Degree Pico Rivera" under the umbrella of the HSF's existing "Generation 1st Degree" initiative. The Cisneros will donate $1.25 million to it over a course of five years. In 2012, they will start awarding money to promising high school students who otherwise may not have opportunity to further their education.
"We're excited to be a part of it," says Jacki.
El Rancho is the only high school in Pico Rivera and has a low percentage of students who attend college after graduation.
"Both Gilbert and I really value education." says Jacki "We were kind of brought up to value education and we knew the importance of education."
Generation 1st Degree not only provides first-generation Latino college-goers with scholarship money, but also helps them settle into college life, stay in school, and even find a job after graduation.
"As soon as one person achieves a certain level, then the rest of the family begins to think they can do it and get there as well," says Frank Alvarez, Hispanic Scholarship Fund President and CEO. "We know that in the Latino community if we plant one in the family to get a college degree, then the rest of the family has got a mentor, somebody who's been through it. They can then share the information and there's a ripple effect in the extended Latino community, the primos, primas and tios, tias you know the whole thing."
Jacki's grandfather, Frank Terrazas, was involved with the Pico Rivera community, serving as mayor and a city councilman. Now, it's Jacki and Gilbert's turn to leave their footprints in Pico Rivera's history.
"Most Latinos in the U.S. don't have a college degree," says Alejandra Rincón, the Vice President of Programs of HSF. "So it's obviously very exciting that they're going to say, 'Yeah this is an issue, but here, we're going to put the money and we're going to make this happen, for all of you.'"
The Cisneros say their generosity will not only leave its mark in Pico Rivera. They vow the "Generation 1st Degree Pico Rivera" will be a model for more scholarship programs they plan on creating across the U.S.
Contact Angela M. Santos at angela.santos@foxnewslatino.com or on Twitter@angelamsantos
Follow us on twitter.com/foxnewslatino
Like us at facebook.com/foxnewslatino