Hollywood couple steps up campaign to free Pakistani doc who helped get bin Laden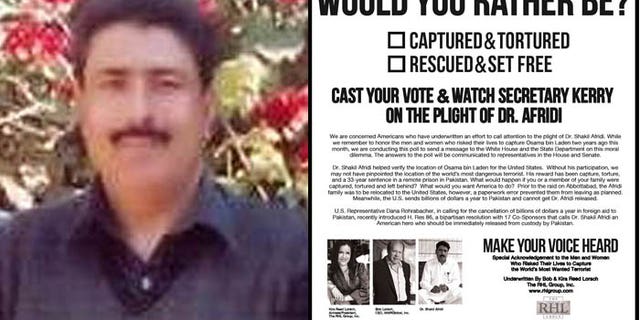 NEWYou can now listen to Fox News articles!
The California activist behind a campaign to free a Pakistani doctor who helped hunt down Usama bin Laden has put the issue before the men and women who risk their own lives and freedom fighting for America.
An advertisement in Military Times magazine, which goes out to some 275,000 homes, asks if service members would rather be "captured and tortured" or "rescued and set free." The ad directs readers to the magazine's website, where they can cast their vote and watch a clip of Secretary of State John Kerry discuss the plight of Dr. Shakil Afridi, who has been imprisoned in Pakistan for more than two years for helping locate the world's most wanted man and paving the way for the Navy SEALs raid that killed him.
The ad is the latest phase in the "Free Afridi" campaign by health care executive Robert Lorsch and his actress wife Kira Reed Lorsch, who both took up the cause earlier this year just before the Academy Awards, where "Zero Dark Thirty," a movie about the SEAL raid, was up for several Oscars. The pair has so far spent $70,000 of their own money trying to raise awareness about Afridi's plight.
The Lorsches say the poll, posted on www.freeafridi.com, is aimed at sending a message to the White House and State Department to address the plight of the doctor and moral dilemma of leaving him behind.
Afridi was convicted by a tribal court in North West Pakistan on May 23, 2012, on a charge of colluding with terrorists, though it is widely acknowledged he is being punished for his ruse in the CIA-led Bin Laden operation. To positively identify bin Laden's presence, Afridi set up a Hepatitis B vaccination program and collected DNA samples to verify the Al Qaeda leader and his family's were living at a compound in Abbottabad, 80 miles from the capital, Islamabad. He was sentenced to 33-years in jail, of which he has nearly completed a year, and has been subjected to severe interrogation tactics at Pakistan Intelligence Agency's prison.
The advertised poll posted on www.freeafridi.com is aimed at sending a message to the White House and State Department to address the plight of the doctor and moral dilemma of leaving him behind.
Rep. Dana Rohrabacher, R-Calif., Afridi's most vocal supporter in Congress, introduced a bipartisan resolution in February to recognize Afridi as an American hero and called for his immediate release or cancellation of billions of dollars in aid to Pakistan.
"Quiet diplomacy toward Dr. Afridi's imprisonment is not working," Rohrabacher said in a statement Monday, in which he accused the Obama administration of acting "cowardly" on the matter.
Afridi is now in a hunger strike over denial of access to visits from his family and legal counsel, as well as harsh treatment in prison.
"The U.S. ambassador should be recalled and legislation should be passed to withhold foreign aid to Pakistan as long as they are doing the bidding of terrorists and persecuting the likes of Dr. Afridi," said Rohrabacher.
Afridi's court hearings have been adjourned up to a dozen times since he was sentenced last May. His family fears the next court hearing, scheduled for June 13, won't yield any results unless there is more pressure from the U.S.