Fariñas Holding Off on Hunger Strike - For Now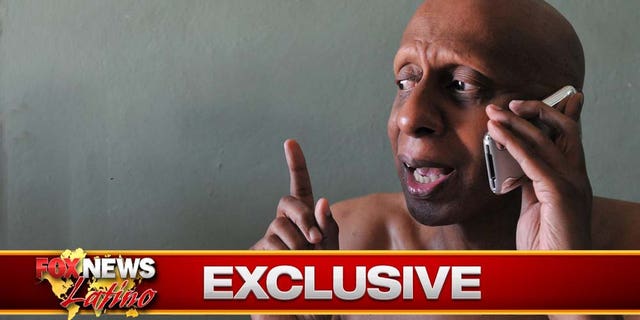 Cuban dissident Guillermo Fariñas said he is holding off on going on another hunger strike in support of 13 political prisoners until other human rights activists in Cuba find out why they were not released Sunday.
In an exclusive interview with FoxNewsLatino.com, Fariñas -- who is battling numerous health problems at his home -- said that he and the political prisoners are waiting for a coalition of mothers and wives of the jailed dissidents to meet with Catholic Church officials and Spanish diplomats over the release of prisoners.
"I have been asked by my fellow dissidents still in jail to wait for the 'Ladies in White' to meet with these officials before renewing a hunger strike," said Fariñas, 48, who was among a group of more than 70 dissidents arrested and sentenced to years in jail by Cuban authorities in a massive crackdown in 2003. "We will see if their request for a meeting with the church officials and representatives of the Embassy of Spain is granted, and what these women are told as to the reason the release of the political prisoners did not happen."
Officials of the Catholic Church in Havana indicated in the summer that Cuban government authorities said it would release any remaining political prisoners from the 2003 crackdown by Nov. 7. The Cuban government has never addressed the church officials' remarks, and it has never acknowledged a deadline for releasing the prisoners.
The remaining 13 political prisoners have said they will not agree to Cuban government demands that they leave Cuba as a condition of their release. The dissidents say that they should not be forced to leave their own country as a price for freedom. Some of them have vowed to continue their activism for human rights and their denunciations of the communist regime if they are released from jail.
Fariñas, who was once a supporter of the Communist revolution in Cuba and held government posts under Fidel Castro before becoming a vocal opponent of the system, held a 134-day hunger strike this year in support of his fellow dissidents. He won Europe's Sakharov human rights prize in October.
Friends of Fariñas say they are worried that, given his delicate health, another hunger strike could be fatal for the former psychologist. Fariñas often depends on a cane to move around and says he has arterial thrombosis.
"He is still quite critical from his hunger strike earlier this year," said Pedro Pablo Alvarez, a close friend of Fariñas. "I'm very much concerned that another hunger strike could be fatal for Guillermo."
Alvarez, a labor union leader in Cuba who ran into trouble with Cuban authorities after he criticized Cuba's labor violations, was among the dissidents who were jailed after the 2003 crackdown. He arrived in the United States after accepting exile in Spain in 2008.
Another dissident, Orlando Zapata Tamayo, who was arrested and imprisoned along with Fariñas and Alvarez died early this year after staging a months-long hunger strike. His death drew world-wide attention.
Critics of Cuba's practice of forcing jailed dissidents into exile upon their release say the regime simply is a tactic for keeping down the opposition.
"Freedom should not mean exile, it should mean freedom to stay in your country," said Sen. Robert Menendez, a New Jersey Democrat whose parents were from Cuba. "It should mean freedom to express your beliefs, and to do so without harassment or imprisonment by the government."
Cuba's insistence that dissidents leave Cuba upon release from jail, Menendez said, "only goes to prove that they are afraid of these people staying in Cuba and fighting for freedom and democracy."
Cuban officials object to the term "political prisoner." They say that people who criticize the government, especially through protests and organizing with other dissidents, are guilty of what in Cuba is deemed the crime of engaging in counter-revolutionary activities and trying to incite rebellion.
For his part, Fariñas said that despite his health problems, he will embark on another hunger strike if he and his fellow dissidents who are still in jail believe it is necessary.
He has been staging hunger strikes since the 1990's.
"Hunger strikes are a peaceful way to shame the government, the political system, without resorting to violence," he said.
Follow us on twitter.com/foxnewslatino
Like us at facebook.com/foxnewslatino