Cops: impaired driver nabbed by excavator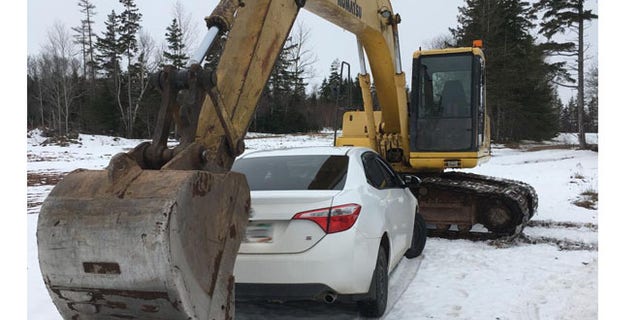 Police in Canada say a construction worker used an excavator to help them arrest a drunk driver.
The arrest took place Thursday afternoon near a highway on Prince Edward Island, off Nova Scotia, according to CBC News.
Police said the excavator operator called 911 to say that a motorist had gotten out of his car "to confront him about his work."
Police went on to say that during the verbal altercation "the operator observed signs of intoxication and as a result 'prevented' the driver from fleeing with the 'bucket' on the excavator."
Cops snapped a photo of the excavator and the car.
"It's certainly a first that I've seen that," Sgt. Leanne Butler told CBC. "The officers responding probably haven't seen something like that before either. It was a different way, but it was effective."
Police said the motorist flunked a breathalyzer. The test showed his blood-alcohol level was three times the legal limit.
CBC reported that the man has a court date in early 2017 to face a charge of impaired driving.