AZ police find 3-year-old girl duct-taped and hidden in closet allegedly offered for sex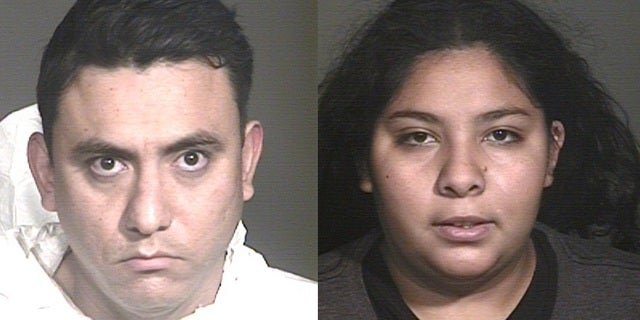 A 3-year-old girl, malnourished and bound with duct tape, was found inside a closet in a home outside Phoenix, where a man who babysat her allegedly offered for sex.
The Mesa Police Department told FOX10 that the girl was found in a trash bag, covered in feces.
The girl's mother, Mayra Solis, and her boyfriend, Fransisco Javier Rios-Covarrubias, have been arrested, police said.
According to the FOX affiliate, police described the case as one that "shocks the soul."
Mesa police said the mother allegedly also shaved her daughter's head to get money by claiming the girl had cancer.
The girl was hospitalized in fair condition and placed in temporary state custody.
The suspects remained in custody Tuesday. A police spokesman didn't know whether they have attorneys who could comment on the allegations.
The AP contributed to this report.
Like us on Facebook
Follow us on Twitter & Instagram