Army veteran thwarts armed 'Batman' robber in casino
An Army veteran is speaking out for the first time about his dramatic actions to thwart an armed robbery at a small German casino where he worked.
Elliot Montalvan, 35, said he thought someone was pranking him when a man wearing a Batman mask, a ski mask, gloves and a scarf entered the gambling hall in the small Bavarian town of Heidingsfeld, about 72 miles south of Frankfurt, last summer.
But then he saw a gun and heard the man saying in German: "Give me the money. Let's go to the register."
It was at that moment Montalvan, who served in Operation Iraqi Freedom in Iraq, said he knew he had to get control of the situation before anyone got hurt.
"As he turned away from me, I saw my opportunity to try to take the revolver out of his hands," Montalvan told Fox News on Tuesday.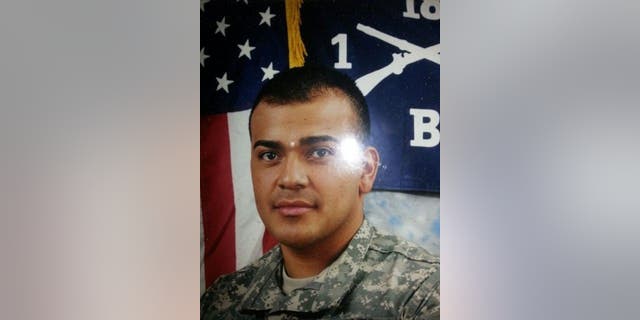 Surveillance video showed Montalvan jumping on the would-be thief from behind before the men struggled on the floor.
"He went down with such a force that, I [thought] the robber was for a moment unconscious or shocked," he told Stars and Stripes, who first reported the story Monday. "I started pounding him with a closed palm."
The scuffle ended when Montalvan used a wrestling hold to choke the man until he lost consciousness.
He said that, after checking the man's pulse and turning him facedown, he asked his wife to call the police.
"I made sure he was rolled over on his side and face so we would not choke on his blood," Montalvan told Fox News.
When police arrived, Montalvan said he went outside, knelt down, held his hands up and told police he was not the suspect. "The only time I panicked was when the whole ordeal was over."
Local German media reported the suspect, who was not identified due to German privacy laws, sustained broken cheekbones from the incident.
On Jan. 30, the man was sentenced to three years and three months in prison for attempted armed robbery. He was convicted thanks to testimony by Montalvan.
The former Arkansas soldier, who served in several infantry units during his Army service from 2004 to 2010, said he was actually not supposed to work the night of the robbery. He was covering for his wife, who had to stay home because their children got sick.
"I never thought that what I learned could one day really save your life," he told Stars and Stripes. "I never realized it until this night."