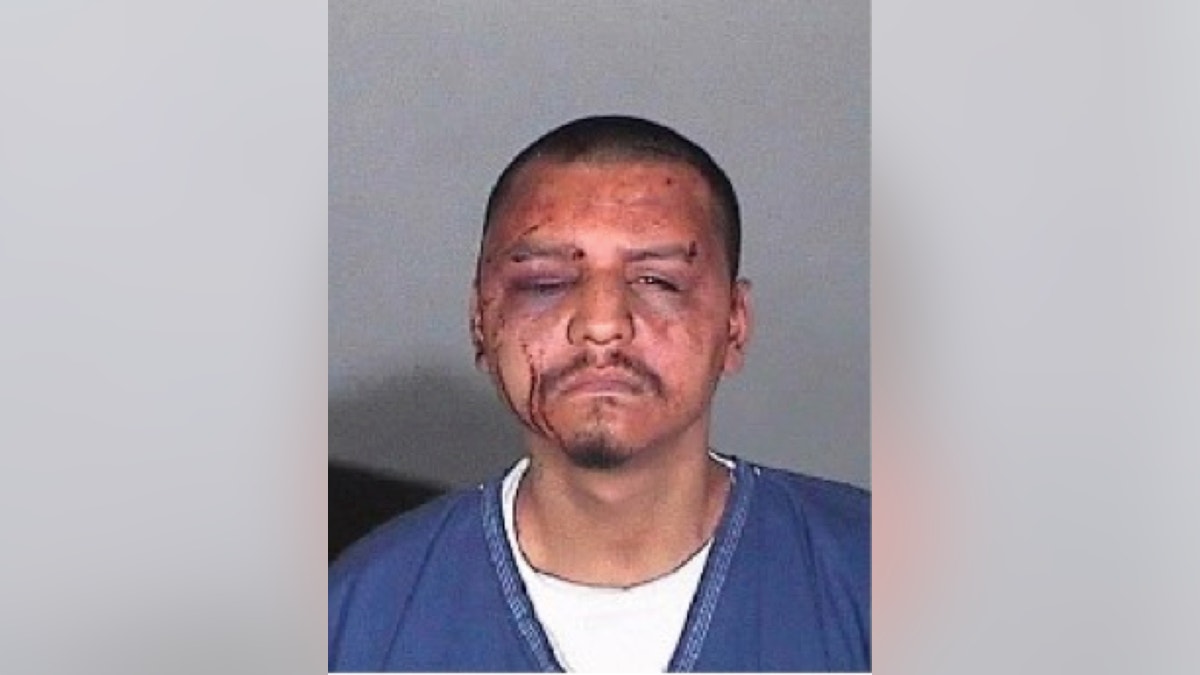 LOS ANGELES (AP) – Three Los Angeles County sheriff's deputies were convicted Wednesday in federal court in the beating of a bloody, handcuffed jail visitor and an attempt to cover it up.
Sgt. Eric Gonzalez and deputies Sussie Ayala and Fernando Luviano were found guilty of deprivation of civil rights and falsification of records in the 2011 beating of Gabriel Carrillo. Gonzalez and Ayala were also convicted of conspiracy to violate constitutional rights.
The three face at least six years in prison when sentenced Nov. 2.
"An individual who carries a badge and a gun and who uses their authority and power to violate people's constitutional rights — as was the case here — is one of the worst kinds of criminals and should be brought to justice," said Assistant U.S. Attorney Lizabeth Rhodes, one of the three prosecutors on the case.
The convictions were the latest in a federal investigation of civil rights abuses and corruption at the nation's largest sheriff's department.
Nearly two-dozen members of the department, including the former second-in-command, have been charged with crimes ranging from beatings to obstruction of justice.
As a court clerk read the verdicts Wednesday, Gonzalez put his head in his hands.
Defense attorneys said they will appeal the verdicts. "I believe very much in my client's innocence," said Patrick Smith, who represents Ayala.
The deputies had said Carrillo had only one cuff on and they had to use force to control him when he became combative.
Jury foreman Tony Tran said he was convinced the trio was guilty after seeing photos that showed bruises and indentations on Carrillo's hands, proving he had been handcuffed during the beating.
"It was very apparent to all of us that they were guilty," said Tran, 35.
Tran said he was also swayed by two other jail guards who turned on their colleagues.
Deputies Noel Womack and Pantamitr Zunggeemoge reached plea agreements with prosecutors just before trial and testified that Carrillo was handcuffed the entire beating. They said everyone agreed to tell the same lie about what happened.
Joseph Avrahamy, Gonzalez's attorney, said their testimony was a tremendous blow to the defense. He added that Womack and Zunggeemoge only pleaded guilty and agreed to testify to get lighter sentences for themselves.
In his plea agreement, Womack described a culture of excessive force and cover-ups at the visitation center of the Men's Central Jail in downtown Los Angeles.
Womack said Carrillo, who had been at the jail to visit his brother, was not only handcuffed but also face down on the ground and bleeding during the beating. Carrillo had been detained on suspicion of sneaking in a prohibited cellphone.
Womack acknowledged unnecessarily punching Carrillo five times in the leg after hearing another deputy yell, "Stop spitting."
"The punches were retaliation and intended to inflict pain, and were made because defendant Womack thought he could get away with such action," according to Womack's plea agreement.
When writing his report justifying the use of force, Womack knew he would have to lie and say Carrillo wasn't handcuffed, according to the statement.
The statement blames much of the beating on Gonzalez, saying he directed deputies to "snatch up" and arrest anyone who looked suspicious. Prosecutors said Gonzalez urged deputies to use force on visitors who showed disrespect.
Gonzalez "encouraged and tolerated abuses of the law," including unreasonable searches and seizures, unlawful arrests, unjustified force and falsified reports, according to the indictment.
Avrahamy said when Gonzalez took charge of the visitation center at the jail in March 2010, "the place was a mess," with convicted felons and gang members being allowed to visit inmates against policy.
Gonzalez was cleaning things up by arresting prohibited visitors, Avrahamy said.
With the verdicts, 14 members of the department have been convicted of various charges, prosecutors said. Three deputies, all brothers, were acquitted of mortgage fraud.