23,000 Congolese flee to Uganda after clashes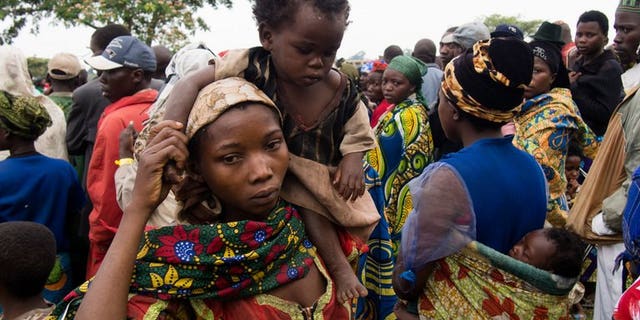 NEWYou can now listen to Fox News articles!
KAMPALA (AFP) – At least 23,000 people have fled the town of Kamango in eastern Democratic Republic of Congo after it was briefly occupied by a rebel group, the UN refugee agency said Friday.
Rebels from Uganda's Allied Democratic Forces (ADF) attacked Kamango, in the northernmost part of North Kivu province early Thursday morning, but later left the town.
Some 3,000 people crossed over into Bundibugyo District in western Uganda on Thursday and the remainder overnight or on Friday, a senior police official in Bundibugyo, Denis Namuwooza, told AFP.
"Uganda Red Cross Society had by mid-afternoon (Friday) registered 23,000 arrivals," UNHCR officer Karen Ringuette said.
Ugandan army spokesman Paddy Ankunda said the rebels briefly seized Kamango, close to the Ugandan border and some 80 kilometres (50 miles) from Beni, the main town in that region of DR Congo, on Thursday.
"We have beefed up security along the common border to avoid a spillover of the fighting," Ankunda said, adding that the Congolese army had since pushed the rebels out of Kamango.
However, local media reports said the rebels had pulled out of their own accord.
Watalinga tribal chief Jean Paul Saambili told AFP that rebels were still in Kamango on Friday around noon "terrorising the residents".
Residents also said that public buildings and the hospital had been pillaged but no toll was given of possible casualties.
Ankunda said the rebels took nine people hostage, including a local leader.
According to residents he was killed but members of his family and several humanitarian workers had been released. There was no immediate confirmation for this by other sources.
The ADF was formed in the mid-1990s in the Rwenzori mountains in western Uganda, close to the DR Congo border. Part of the ADF is now based in DR Congo after Ugandan government forces routed them two years ago.