The Latest: Regulators file complaint against Nassar boss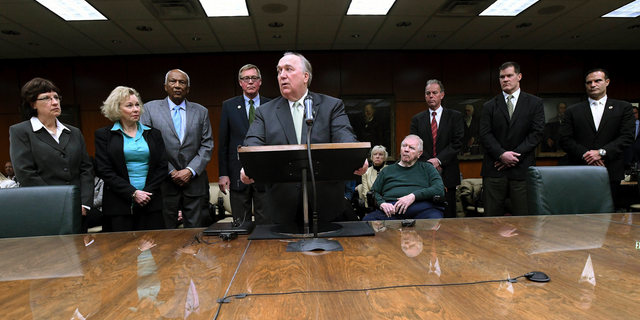 NEWYou can now listen to Fox News articles!
LANSING, Mich. – The Latest on a settlement between Michigan State University and victims of sports doctor Larry Nassar (all times local):
2:50 p.m.
The Michigan medical license of Larry Nassar's former boss could be in jeopardy.
State regulators filed a complaint Wednesday against Dr. William Strampel, who was dean of Michigan State University's medical school. The complaint is related to a pending criminal case against Strampel, who is accused of failing to properly supervise Nassar and of his own sexual misconduct involving students.
The complaint could go through a formal hearing process. Any discipline would be up to a subcommittee of the Board of Osteopathic Medicine and Surgery. A message seeking comment was left for Strampel's lawyer.
Nassar sexually assaulted women and girls while serving as a sports doctor at Michigan State. The university announced Wednesday that it agreed to a $500 million settlement with victims.
___
2:10 p.m.
A victim credited with exposing serial sexual abuser Larry Nassar says she is grateful to have reached a legal settlement with Michigan State University that reflects the "incredible damage" that took place on campus.
Former gymnast Rachael Denhollander issued statements on social media Wednesday about the $500 million settlement between Nassar's former employer and 332 victims. She says the deal will help the "sister survivors" move forward, and her decision to come forward publicly in 2016 was motivated by the need for accountability and reform, "so that other little children don't live the nightmares we lived."
Denhollander says she remains "deeply disappointed at the missed opportunity for meaningful reform at the university." She says she is also disappointed that a resolution hasn't been reached with other organizations such as USA Gymnastics.
And she is renewing her call for Michigan lawmakers to enact legislation that would retroactively extend the time limit for victims of childhood sexual abuse to sue. She says many survivors "still have no voice."
___
12:30 p.m.
The chairman of Michigan State University's governing board says the school is "truly sorry" for what disgraced sports doctor Larry Nassar's victims and families went through.
Michigan State and lawyers for 332 victims announced Wednesday that they have reached a $500 million settlement. The school was accused of ignoring or dismissing complaints for years about Nassar.
Trustee Brian Breslin says Michigan State recognizes the "need for change" when it comes to sexual assault awareness and prevention.
Michigan State didn't disclose how it will pay the settlement.
Nassar pleaded guilty to molesting women and girls under the guise that he was treating them for injuries. He is serving sentences that will likely keep him in prison for life.
___
11:50 a.m.
Michigan State University has reached a $500 million settlement with hundreds of women and girls who say they were sexually assaulted by sports doctor Larry Nassar in the worst sex-abuse case in sports history.
The deal was announced Wednesday by Michigan State and lawyers for 332 victims.
Nassar pleaded guilty to assaulting victims with his hands under the guise of treatment. He also possessed child pornography and is serving decades in prison.
He treated campus athletes and scores of young gymnasts at his Michigan State office. He had an international reputation while working at the same time for USA Gymnastics, which trains Olympians.
Olympic gold medalists Jordyn Wieber, Aly Raisman, Gabby Douglas and McKayla Maroney say they were victims.