The Latest: Cremains given police escort to funeral home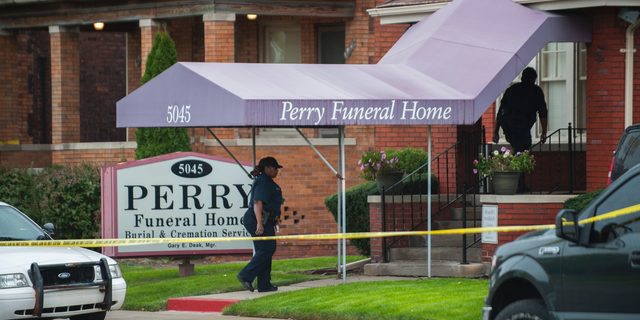 DETROIT – The Latest on police investigations into Detroit funeral homes (all times local):
5:20 p.m.
Hearses with a police escort have transported the cremated remains of nearly 300 people removed from a shuttered Detroit funeral home to one in the suburbs.
The Detroit News reports the unclaimed remains were seized from the Cantrell Funeral Home on Detroit's eastside after the state closed the facility in April for various violations.
Their containers were cleaned and catalogued in Flint, about 50 miles (80 kilometers) northwest of Detroit. On Thursday, they were taken to Verheyden Funeral Home in Grosse Pointe Park. The remains included 26 military veterans and more than 50 others who have yet to be identified.
Remains that are not claimed will be buried Nov. 2 at Mt. Elliott Cemetery in Detroit. Remains of veterans will be buried at Great Lakes National Cemetery in Holly around Veterans Day.
__
2:30 p.m.
The remains of six fetuses hidden in the ceiling of a closed Detroit funeral home have been identified .
Police Chief James Craig said Thursday that identification tags attached to the remains or bags they were stored in led police to relatives. Investigators have spoken to parents connected to three of the fetuses.
The remains of 10 fetuses and a still-born infant were found Oct. 12 at the old Cantrell Funeral Home. The infant has not been identified. The state shut down Cantrell in April after finding 21 improperly stored bodies.
Detroit police are investigating the Cantrell remains. Craig says a task force that includes his department, state police and the FBI will start looking Monday into the Perry Funeral Home in Detroit where 63 fetuses were found last week.
__
2 p.m.
A police task force is preparing to investigate a Detroit funeral home where 36 fetuses where found in boxes and 27 others in freezers.
Police Chief James Craig says Thursday that the task force will include his officers, state police and the FBI. On Monday, it will start looking into operations at the Perry Funeral Home, where the fetuses were found Friday.
Meanwhile, Detroit police are continuing to investigate the defunct Cantrell Funeral Home where the remains of 10 fetuses and one infant were discovered in a ceiling Oct. 12. The state shut down Cantrell in April after finding 21 improperly stored bodies.
The investigations could focus on improper storage of remains and fraud.
The Associated Press left a message Thursday seeking comment from the Perry Funeral Home attorney.