Prison transfer of James Holmes reportedly thwarted plan to question him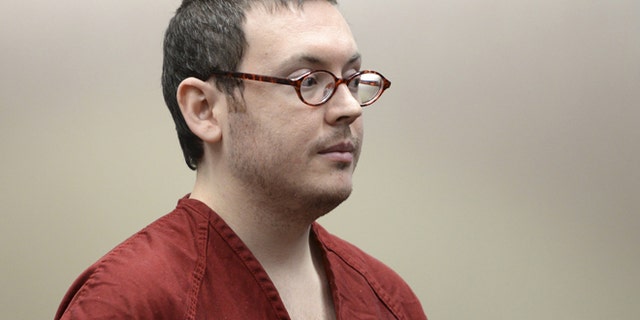 The man who killed 12 people in the Colorado movie theater massacre was moved to another prison right before he was supposed to be deposed in a lawsuit, the second time in less than a year a transfer hampered efforts by lawyers to question him under oath.
James Holmes was to be questioned in a civil trial involving more than 60 survivors of the 2012 shooting and relatives against Cinemark, owner of the Aurora, Colo. theater, which alleges the company should have foreseen the possibility of an attack and done more to protect against it, The Denver Post reports.
The claims are divided in two lawsuits, one in state and federal court, both of which are scheduled for trial later this year.
Lawyers for Holmes scheduled a deposition for Holmes in the state case to question him under oath over his planning for the attack and choice of the theater as the target, but that was canceled when he was moved the first time to a prison in Pueblo, Colo., according to records obtained by the newspaper.
The deposition was then rescheduled for Jan. 21, but then Colorado corrections officials announced Holmes had yet been moved again to an undisclosed prison.
Colorado Department of Corrections spokeswoman Laurie Kilpatrick told the Denver Post that Holmes, who had become a target for attacks in prison, was moved for his own safety and the safety of corrections employees. She said the transfers had nothing to do with the timing of the depositions.
"I'm not even sure we were aware of his deposition," she told the newspaper
The transfers however could impact the civil cases, as lawyers for the theater shooting survivors and victim's families say they likely won't ever be able to question Holmes now that he's been moved to an undisclosed location in time for the trials later this year.
Click for more from The Denver Post.