Man who may have caused Nevada wildfire comes forward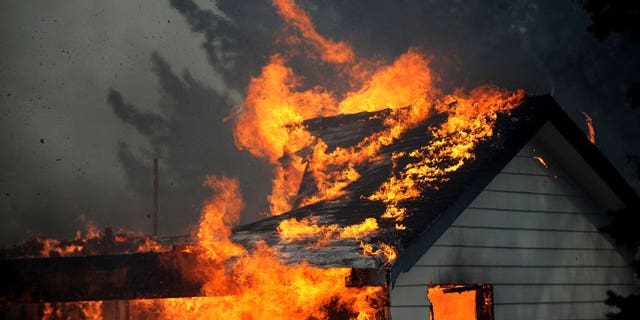 NEW WASHOE CITY, Nev. – Rain and snow helped firefighters surround a brush fire that destroyed 29 homes and forced thousands to flee near Reno, leading officials to declare the blaze contained early Saturday and lift all remaining evacuations.
Fueled by hurricane force winds, the blaze burned nearly 3,200 acres with flames as high as 40 feet. The break in the weather for firefighters arrived with calmer winds on Friday, allowing crews to gain the upper hand on a blaze Nevada Gov. Brian Sandoval described as "horrendous."
"There is nothing left in some of those places except for the chimneys and fireplaces," he said in a tour of the area Friday.
The next challenge for emergency workers may be a storm in the Sierra Nevada, which for many brings welcome snow and rain amid one of Reno's driest winters in more than a century but could create headaches for officials who fear its potential for causing flooding in burned areas.
Authorities say an "extremely remorseful" elderly man admitted to accidentally starting the fire Thursday when he improperly discarded fireplace ashes at his home south of town.
Investigators already had tracked the origin of the fire that raged south of Reno to a location in East Lake on the north end of the Washoe Valley, where the man lives about 20 miles south of downtown Reno.
"He came forward on his own accord," Reno Fire Chief Michael Hernandez said. "He has given statements to our investigators as well as law enforcement officers. He is extremely remorseful."
Washoe County Sheriff Mike Haley said a formal case file will be forwarded to the district attorney next week for consideration of charges.
In addition to the potential for facing jail time on arson charges, the man could also be ordered to pay the cost of fighting the fire, which already totals $690,000.
Washoe County Manager Katy Simon said she expects the final bill to run into the millions of dollars.
The blaze started shortly after noon Thursday and, fueled by the wind, mushroomed to more than 6 square miles before firefighters stopped its surge toward Reno.
The strong, erratic winds caused major challenges for crews evacuating residents, Sierra Front spokesman Mark Regan said. "In a matter of seconds, the wind would shift," he said.
The sheriff confirmed that the body of June Hargis, 93, was found in the fire's aftermath, but her cause of death has not been established, so it's not known if it was fire related.
Jeannie Watts, the woman's 70-year-old daughter, told KRNV-TV that Hargis' grandson telephoned her to tell her to evacuate but she didn't get out in time.
State Forester Pete Anderson said he has not seen such hazardous fire conditions in winter in his 43 years in Nevada.
Reno had no precipitation in December. The last time that happened was 1883.
An inch of snow Monday ended the longest recorded dry spell in Reno history, a 56-day stretch that prompted Anderson to issue an unusual warning about wildfire threats in a fire season that has stretched well past the usual endpoint of November.