Hurricane Florence too strong for Charleston County shelters, residents will be transported elsewhere
With Hurricane Florence approaching the southeast, one of the largest counties along the South Carolina coastline will transport residents to neighboring counties because its shelters might not be safe enough withstand a Category 4 storm.
Like most counties in South Carolina, Charleston County – with a population of nearly 400,000 people – uses local schools as shelters for storms. But earlier this year, the Charleston County School District requested an assessment of its facilities used during hurricanes; it found the shelters should only be used for storms designated a Category 3 or below, the Charleston Post & Courier reported.
To "err on the side of caution," County Council Chairman Vic Rawl told Fox News the county previously entered into an intergovernmental agreement with neighboring Berkeley, Dorchester and Orangeburg Counties to use shelters – including a few established pet-friendly places – if necessary.
As of Wednesday afternoon, Florence is a powerful Category 3 storm with maximum sustained winds of about 125mph as it continued on its path toward the Carolinas Wednesday. To be a Category 3 storm, a hurricane must have sustained winds at or below 129 mph. It is expected to upgrade again to a Category 4 by Thursday morning.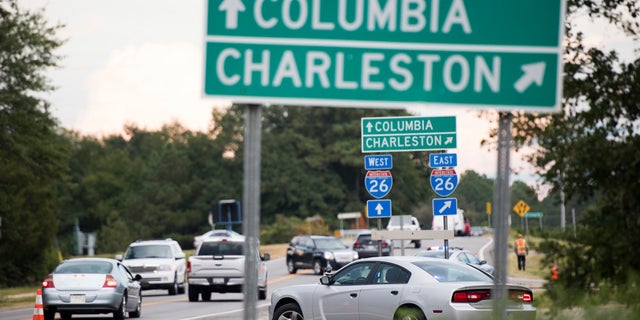 Nearly two million people in North and South Carolina as well as Virginia were warned to evacuate by Tuesday night as hurricane watches and warnings extended across an area encompassing about 5.4 million residents.
"Don't play games with it. It's a big one," President Trump said in a taped message.
With CARTA – Charleston's mass transit system – the county is helping residents get to emergency shelters despite the distance, Rawl said. The bus system has a designated emergency route along which it can pick people up and transport them to a county office building in North Charleston, close to roadways that lead to the other counties. From there, people will be transported to open shelters, he said.
HURRICANE FLORENCE REMINDS CAROLINAS OF HUGO, OTHER MAJOR STORMS
While they don't have to, residents can also drive their vehicles to the shelters, which "should generally be used as a place of last resort," according to the county's hurricane preparedness guide.
A spokesperson for Charleston County told Fox News additional buses are on hand "ahead of time to take citizens to further inland shelters if needed."
As for plans to renovate or upgrade the schools in Charleston County in the future to be able to withstand a more powerful storm, the county spokesperson pointed to the school district. A Charleston County School District representative did not return Fox News' request for comment by Wednesday afternoon.
The Associated Press contributed to this report.