Hero officers seen rescuing trapped residents during raging Napa fire
NEWYou can now listen to Fox News articles!
As wildfires ravaged California's Napa wine country last October, police officers raced through neighborhoods warning residents to leave or risk death. New bodycam footage shows the terrifying moments as police rescue stranded locals, while trying to convince others to leave the area.
The video, obtained by the San Jose Mercury News and the East Bay Times, shows flames rising above rooflines as officers from the Santa Rosa Police Department drive past homes on fire.
In one clip, an officer approaches a man sitting on a bench in front of his house where flames had not yet reached. "What's your plan?" the officer asked. "Just staying here with the hose," replied Ken Mazzoni, who told the officer he was going to "fight it out."
A second officer approached Mazzoni, explaining: "You're going to put a lot of people in danger. The fire is one row of houses over. It's coming at us."
The first officer again attempted to convince Mazzoni to leave, warning of the fast-moving flames.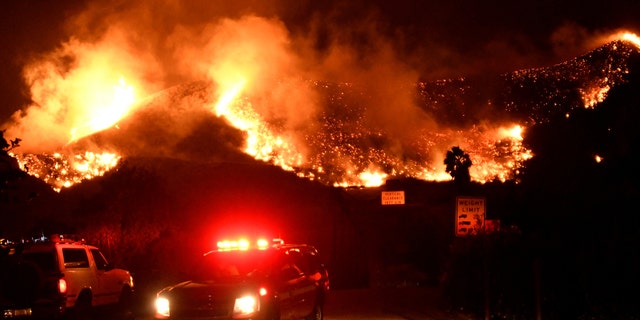 "It's huge. It's one of the biggest I've ever seen," he said. "It's not worth it."
Mazzoni and his wife refused to go until several minutes later, the Mercury News reported. Flames eventually destroyed their home.
Others had no path to escape. Electrical outages prevented automatic garage doors from working and many couldn't drive their cars out because they did not know how to operate manual backup controls.
"I need help...I can't get the garage door open," explained an elderly woman to Santa Rosa police officer Dave Pedersen in the video. "Sir, I'm scared," she said, her voice trembling.
Pedersen began assisting residents who couldn't get their garage doors open.
"We had to get them out of here," he told the Mercury News. "As I turned the corner, I saw the whole street. That's when I started calling more officers. It was just more than a one-man job."
Throughout the video, officers are heard comforting senior citizens and others who were threatened by the fire, but also expressed frustration at those who hadn't heeded evacuation warnings.
"When the cops are running away, it's time to turn around," one officer said.
The police video is from the night of October 8 and the early morning hours of October 9, when "Diablo winds" up to 70 mph sent the fire on an unpredictable path of destruction, covering 12 miles in just four hours.
Fires raged in Napa and neighboring counties throughout October 2017, killing 25 people and destroying 5,293 residences according to the California Department of Forestry and Fire Protection.