Hearing set on fate of board member who insulted Obamas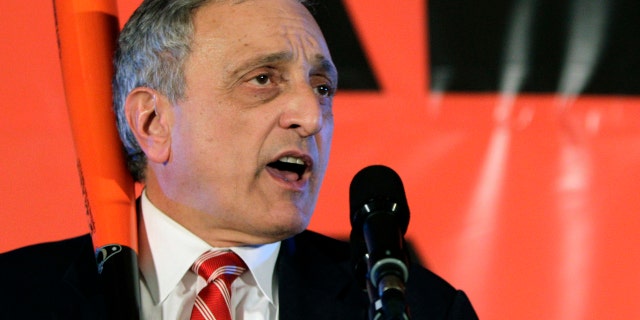 NEWYou can now listen to Fox News articles!
ALBANY, N.Y. – A one-time candidate for governor of New York who publicly insulted former President Barack Obama and his wife may be booted off the Buffalo School Board.
A hearing is scheduled to begin Thursday in Albany over whether wealthy developer Carl Paladino disclosed confidential board business.
State Education Commissioner MaryEllen Elia is set to hear testimony in a petition filed by other school board members seeking Paladino's removal from the fractured body. They say Paladino publicly disclosed information about teacher contract negotiations discussed in closed-door sessions.
Paladino counters in a federal lawsuit that the board's claims are in retaliation for derogatory remarks he made about the Obamas, and an attempt to stifle free speech.
Paladino, a Republican who was active in President Donald Trump's campaign, said his opponents made the disclosure claims only after being advised that his published statements about the Obamas — including that he hoped the outgoing president would catch mad cow disease and that his wife would live in a cave with a gorilla — were protected free speech and not grounds for removal from the school board.
He also said that his disclosures about teacher contract negotiations after they had wrapped up were in the public interest.
The state Education Department hearing on the board's petition is expected to last several days. Elia will issue her decision at a later date.
Paladino was the Republican candidate for governor of New York in 2010. He was elected to the school board in 2013 and re-elected in 2016.
A supporter of charter schools, vouchers and tax credits, he is regularly at odds with the school board majority and the city teachers' union. The Buffalo Federation of Teachers also called for Paladino's removal following the Obama remarks, which were published in a December issue of Artvoice, a Buffalo newspaper, in response to questions posed to various public figures about what they would like to see in the New Year.
Paladino said his emailed answers were meant for his friends and that he sent them to the newspaper by mistake.