Fundraising website of George Zimmerman, suspect in Trayvon Martin case, is shut down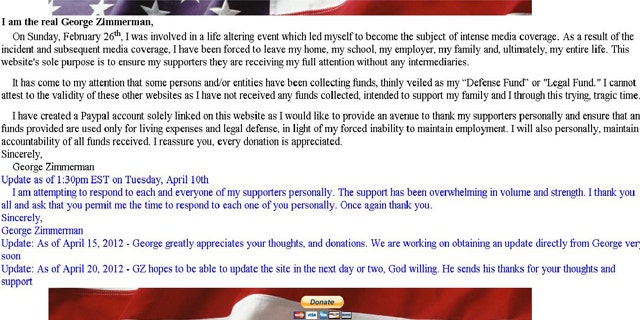 A website set up for George Zimmerman to raise funds for his legal defense after he was accused of killing unarmed Florida teen Trayvon Martin has been shut down while his attorney tries to restructure the fund, FoxNews.com has learned.
TheRealGeorgeZimmerman.com was launched April 10, as a digital soapbox for Zimmerman to give his side of the story, as well as a fundraising tool to solicit donations to his legal defense fund. Zimmerman used the site, which took major credit cards, to communicate messages to his supporters. But his attorney, Mark O'Mara, said the site has been shut down as of today.
"I've started the process to properly authorize his legal fund," O'Mara said. "I do not want him to have any Internet presence and that site has been taken down.
Zimmerman shot Martin on Feb. 26 in the Sanford, Fla., gated community where he served as a volunteer neighborhood watchman. Zimmerman claims the 17-year-old Martin had punched him in the face and was bashing his head against the pavement when he fired his registered handgun in self-defense, striking Martin in the chest. The incident sparked a national debate as to whether the shooting was an act of racial profiling by Zimmerman.
A friend of Zimmerman had helped launch the site, but several fake imitation websites and Twitter accounts have popped up in recent weeks. O'Mara said he is trying to clear the Internet of fake sites and set up a defense fund that meets all legal requirements.
"I'm trying to scrub through all of them and take action to have them taken down," he told FoxNews.com. "We are currently going through the Division of Consumer Service for an authorized fund. We will likely put up another website for donations, but it will be done so through my office."
Zimmerman was not arrested until last week, when he was charged with second-degree murder. He was released from jail early Monday after posting a $150,000 bail and was seen leaving what appeared to be a bulletproof vest under his jacket.
Reports are that Zimmerman immediately left Florida out of safety concerns and is moving between several undisclosed locations. O'Mara has said Zimmerman will likely remain in hiding until the trial starts sometime next year.