Camp Fire wildfire in northern California prompts mass evacuations, reports of people trapped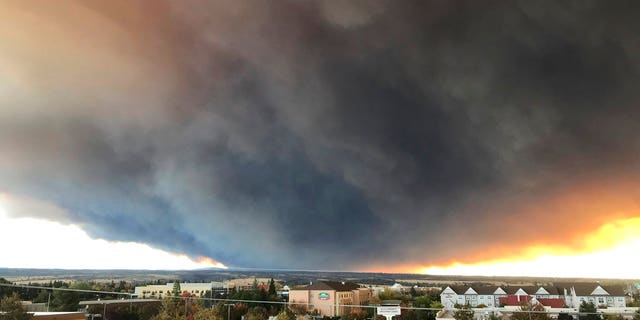 A northern California blaze that exploded into a fast-moving wildfire Thursday prompted mass evacuations after reports of residents trapped in the area.
Dubbed Camp Fire, the flames were first seen around 6:30 a.m. Thursday near Camp Creek and Pulga Roads near Feather River Canyon, the California Highway Patrol said. It quickly spread due to 50 mph winds and engulfed towns in Butte County, about 90 miles north of Sacramento.
Within hours, the fire had covered 5,000 acres and prompted mandatory evacuations in towns including, Pulga, Paradise and Concow, the Sacramento Bee reported. Butte County sheriff issued evacuations for zones throughout the region.
Cal Fire told FOX2 there were reports of people trapped in their home in Paradise -- a town of about 27,000 people.
Alexia Miller told the news station her mother was at Feather River Hospital when "a wall of fire" trapped her in the parking lot. Miller posted a video shared by her mother, who is a charge nurse at the hospital.
Miller said her mother was able to leave the hospital and safely return home.
Shary Bernacett said she and her husband tried to get people to leave the mobile home park they manage in Paradise with just minutes to evacuate as a wildfire approached the east side of town. She added that they "knocked on doors, yelled and screamed" to alert as many of the residents of 53 mobile homes and recreational vehicles as possible to leave the area.
The National Weather Service issued red flag warnings for fire dangers in many areas of the state, saying low humidity and strong winds were expected to continue through Friday evening.
The agency also released a satellite image showing a plume of smoke spreading south and east across Sacramento Valley.
The Associated Press contributed to this report.