3 in National Guard disciplined over use of dinosaur hand puppet during oath ceremony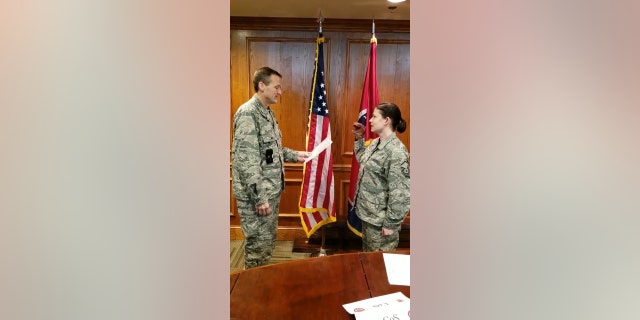 Military officials announced disciplinary actions Wednesday against three Tennessee Air National Guard airmen after filming a re-enlistment ceremony in which an officer recited her oath using a dinosaur hand puppet.
An unidentified colonel in the Guard was demoted and retired after leading the disrespectful ceremony last week in which Master Sgt. Robin Brown wore the puppet as she recited her oath.
Brown, a senior noncommissioned officer, was removed from her full-time position with the Tennessee Joint Public Affairs Office, with other administrative actions pending, officials said.
Another senior noncommissioned officer, responsible for filming the video that sparked the uproar, received an official reprimand and was removed from his job as unit first sergeant, but will remain in the Guard.
Army Maj. Gen. Terry Haston announced the disciplinary measures in a Facebook post and criticized the airmen.
"I am absolutely embarrassed that a senior officer and a senior NCO took such liberties with a time-honored military tradition," Haston wrote. "Not taking this oath solemnly and with the utmost respect is firmly against the traditions and sanctity of our military family and will not be tolerated."
"The Tennessee National Guard leadership as a whole is appalled by the actions of these individuals which do not represent our nation's service members nor the Airmen and Soldiers of Tennessee," he added.
The controversial video of the ceremony spread on social media like wildfire, with the original footage watched more than 2.6 million times on Facebook, and immediately caught the attention of military officials and civilians alike.
Many said the use of the hand puppet, in addition to the colonel not raising his own right hand and not remembering the oath, was disrespectful.
Some suggested that perhaps the video was unofficial and made merely for Brown's children to watch later. But William Jones, a spokesman for the joint public affairs office for the Tennessee National Guard, told the Washington Post that the ceremony was official and claims to the contrary were incorrect.
Lt. Gen. Scott Rice, director of the Air National Guard, issued a Facebook statement on Monday slamming the airmen in the video.
"I'm equally shocked and dismayed by this event that mocks such a cherished and honorable occasion," Rice said. "This action goes against our very foundation."