These Latino NBA Stars are Always in the Spirit of Giving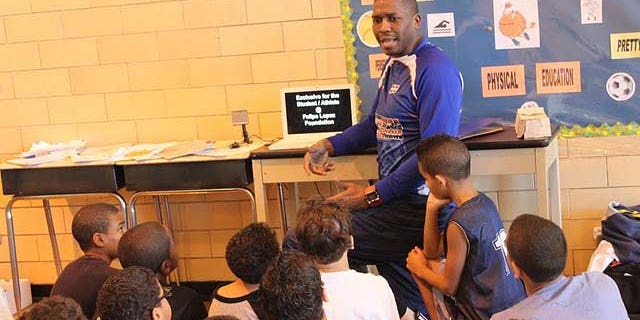 Ever since a teenage Felipe López graced the cover of Sports Illustrated – towering over New York City waters and Statue of Liberty – the Dominican native has always made it his job to look back.
Not back on his career, perhaps with frustration, for never quite living up to the potential that was expected of him. Nor does he look back at the injuries that curtailed his career in the National Basketball Association. Instead, López looks back to his two homes, Washington Heights and the Dominican Republic, to give back as much as he can.
"I've been used to doing a lot of community service," said López while hosting drills recently at a school in Washington Heights in upper Manhattan.
Through the Felipe López Foundation, López teaches children how to dribble with their left hand or how to step into a shot. López instills in the boys the importance of responsibility and accountability, lessons he himself learned when he was a child standout.
"I try to make it fun for them. I give them a lot of incentives," he said. "School work is really a huge part of this program.
"It's about responsibility and knowing that you the only one that is stopping yourself from creating the bigger opportunity for you," he added.
López, 36, is part of a long history of charity among Latino players that continues today.
Charlie Villanueva – another New Yorker with Dominican roots – Argentine Andrés Nocioni, and Brazilian Anderson Varejão do their part for children and others in need.
Villanueva, who suffers from alopecia areata, a rare autoimmune skin disease that causes hair loss on the scalp and other parts of the body, started a foundation to help children afflicted by the condition. The Charlie Villanueva Foundation also focuses on anti-bullying programs, another challenge the Detroit Pistons forward faced as a child.
"Charlie V. is probably as good a person as there is in this league," said Pistons' coach John Kuester. "What he does on the court is so valuable for us, but what he does off the court is immeasurable in regards to the time that he puts into young people.
"I'll tell you this," he added, "he's awfully impressive."
The N.B.A. has recognized Villanueva's work. He has been honored for his community work, and his peers speak glowingly about his charity.
"The stuff CV's been doing, obviously being someone who has alopecia, I think he's been doing tremendous work as far as bringing awareness to it and really being an encouragement and inspiration to other children who have it," said teammate Ben Gordon, who played with Villanueva at the University of Connecticut too. "He's living proof to anyone who I think has that disease that they can still be successful in whatever it is they want to do.
"They don't have to have esteem issues or whatever," he added. "They can still shine."
Nocioni and Varejão have given back, too. Both make sure to take care of children in their homelands.
Nocioni, a forward for the Philadelphia 76ers, helped out three schools with 350 children in the small Argentine town of General Pico.
"I think it's important to give back to the people the support that's needed," said Nocioni, whose nickname is El Chupo. "Especially the youngsters that don't have the opportunity that other youngsters have. You feel really happy and they're excited that someone from the NBA or from another sport remembers them."
Varejão, meanwhile, two years ago brought a contingent of NBA players to visit Brazil for a charity game.
"With everything that basketball has given me, I try to give back to the people of my country and South America," he said. "Anytime I can, I visit the school and the club I started playing for. Whenever I can, I'm doing things for the kids."
López and the other ballers say they are only doing what was done for them in the past.
"I feel so blessed and fortunate to have that opportunity in my life through people that helped me," he said. "Now through this program, I try to extend my hand and offer the same kind of help that other people [were] able to do for my career."
Follow us on twitter.com/foxnewslatino
Like us at facebook.com/foxnewslatino