Soccer Round-Up: Liverpool & Suarez, Cancun Beach Cup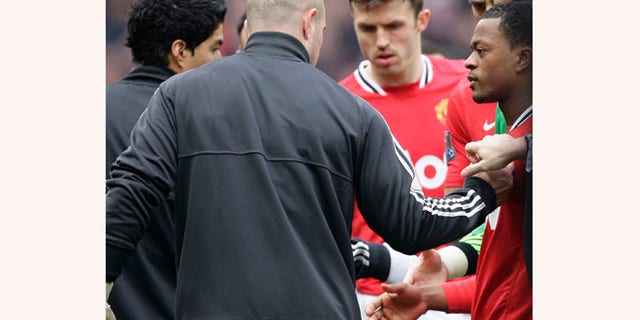 Leave it to Luis Suarez to turn a delicate situation into a bigger headache and further embarrassment for the Uruguayan international.
It was bad enough he had to serve an eight-match suspension for racism abuse of Manchester United and French defender Patrice Evra in October.
He certainly added much fuel to the fire during United's 2-1 victory over Liverpool at Trafford on Saturday.
True, Suarez did score a goal, but that was overshadowed in what transpired before, during and after the much anticipated encounter.
Prior to the kickoff, the talented Uruguayan refused to shake the hands of Evra in what is a pre-match ritual in the English Premier League. Needless to say, Evra was not happy as he threw up his left arm in disgust. Two of his United teammates -- Rio Ferdinand and Danny Wellbeck, who are black, refused to shake Suarez's hand.
The incident continued to snowball.
At halftime, Evra reportedly chased after Suarez down the players tunnel at the halftime break. A fracas erupted outside the locker rooms, Sky Sports reported, as stewards and police had to intervene.
Evra rubbed in the victory with a post-match celebration in the face in front of Suarez, who was walking off the field dejectedly after the defeat. Liverpool players protested Evra's actions and stewards and police had to be called in again.
"I couldn't believe it," United manager Sir Alex Ferguson said. "He is a disgrace to Liverpool Football Club. He shouldn't be able to play for Liverpool again."
Ferguson said the incident "created a terrible atmosphere" at the game. He added that Suarez "could have caused a riot. He should be ashamed."
After the match, Suarez tweeted about the game, but nothing about the incident. "We are lost and we are sad because we have made a big effort," he said on twitter. "Disappointed because everything is not that it seems."
Finally, Suarez apologized for his behavior on Sunday.
"I have spoken with the manager since the game at Old Trafford and I realize I got things wrong," Suarez said in a statement issued by the club. "I've not only let him down, but also the club and what it stands for and I'm sorry. I made a mistake and I regret what happened."
"I should have shaken Patrice Evra's hand before the game and I want to apologize for my actions. I would like to put this whole issue behind me and concentrate on playing football."
Remember the controversy that Suarez created when his intentional handball denied Ghana a goal in the World Cup quarterfinals in 2010? Suarez was slapped with a red card and worldwide criticism for his deed? Now, that seems a more inconsequential in what has transpired in England in October and Saturday.
Just wondering what Suarez's next misstep will be.
Chicharito's Excellent Adventure
England

Javier Hernández
Chicharito wasn't allowed to be Chicharito on. Despite enjoying a scintillating week last week, the Mexican international did not get off the bench in United's win over Liverpool. Hernández watched teammate Wayne Rooney strike a brace at Old Trafford. Rooney was at his lethal best early in the second half as he scored in the 46th and 49th minutes.
Carlos Cuellar
Cuellar, a Spaniard, had a golden chance to equalize late in Manchester City's 1-0 win over Aston Villa. He found himself unmarked some six yards from the net, but he headed his attempt late in the match over the crossbar and goalkeeper Joe Hart.
Italy
Maxi López
As debuts go, López and A.C. Milan could not asked for anything more. The Argentine international connected for the equalizer and created the game-winner for Milan in a 2-1 victory over host Udinese to move into first place in Serie A.
López, who joined the team from Catania before the transfer window closed last week, came off the bench with Milan trailing, thanks to a 19th-minute goal by Antonio Di Natale. He scored the tying goal in the 77th minute before set up Stephan El Shaarawy in the 84th minute.
López told reporters that scoring that first goal was "a dream come true. I am happy for myself, but above all for the team, because we needed to get this result after an unfortunate run of games.
"I dedicate this goal to my family and all my teammates, as they were very kind when I arrived at the training camp.
"In the locker room we realized that we could not drop more points along the way like this, so we stepped on to the field for the second half in a much more determined manner. Right now we are top of the table and want to stay there until the end of the season."

Messi the Great
Spain
Antonio Rodríguez, Ramadel Falcao, Adrian López
Rodriguez, a goalkeeper from Spain, made several big-time saves to help Racing Santander secure a scoreless tie with Atletico Madrid. Two of his most important stops came against Falcao, a Colombian, early on and when he dragged his foot long enough to deny López in the 39th minute. Despite the draw, Atletico extended its unbeaten streak to six games under new coach Diego Simeone. Atletico has not allowed a coach since the former Argentine international took over.
Cristiano Ronaldo
Real Madrid extended its lead over defending champion to an incredible 10 points over defending champion Barcelona after Cristiano Ronaldo recorded his sixth hat-trick of the season in its 4-2 triumph over Levante. It was Real's seventh consecutive win after losing to Barca in December. Ronaldo's last goal was his league-best 27th and 34th overall this season, also was the 4,000th scored at Santiago Bernabeu stadium. Barcelona and Lionel Messi fell at Osasuna, 3-2, as it failed to dig itself out of a 2-0 halftime deficit.
Andrés Guardado
If Deportivo la Coruña winds up getting promoted to Spain's La Liga, the team and Guardado might look back at their 4-1 triumph over Hercules on Sunday as a vital result. La Coruña left no doubt as the Mexican international midfielder helped set up the Spanish Second Division team second goal in the 36th minute. Playing on the left flank, Guardado sent a cross that Riki could not get a handle on in the penalty area. Juan Domínguez got to the loose ball and he tried a cross to the right corner of the box. Defender Paco Peña failed to clear the ball and Bruno Gama fired a shot between the legs of goalkeeper Falcon for his first league goal.
Guardado did not play a part of any of the other three goals, but he certainly played his role in a pressuring attack. His corner kick in the 71st minute set up Colotto at the far post, but the Deportivo player wound up hitting the post. Guardado was replaced by Ayoze in the 82nd minute.

Portugal
Rodrigo, Oscar Cardozo, Nicolas Gaitán
Rodrigo, a Spanish Under-21 striker, struck for a brace in Benfica's 4-1 triumph over Nacional. He found the back of the net in the 39th and 61st minutes. Cardozo, a Paraguayan, gave Benfica a 2-0 lead in the 29th minute with his league-best 14th goal of the season after the Argentine's Gaitan run set up his goal. Benfica visits Zenit St. Petersburg in the UEFA Champions League on Wednesday.
James Rodríguez, Lucho González, Alvaro Pereira
Three South Americans combined to score two goals in the second half of FC Port's 4-0 romp over Leiria. After Porto grabbed a 1-0 advantage, Rodriguez (Colombia) doubled the lead as he put away a rebound of Gonzalez's (Argentina) shot in the 74th minute. Pereira (Uruguay) added a third goal in the 85th minute.
Soccer-Mad Church Worships Diego Maradona as a God
Germany
Jose Paolo Guerrero

The Peruvian striker connected for his sixth goal in the 88th minute to lift Hamburg to a 1-0 triumph at Cologne and move into 10th place in the Bundesliga. Mladen Petric sent a ball over the defense for Guerrero, who shrugged off a defender and chipped goalkeeper Michael Rensing from a difficult angle.
Australia
Carlos Hernández
Hernández, a Costa Rican, scored the equalizer in the 16th minute before Harry Kewell tallied the game-winner in the 39th minute as Victory recorded a 2-1 A-League win over the first-place Central Coast Mariners.
France
Guillermo Ochoa
AC Ajaccio and the Mexican international goalkeeper saw their best run of the French Ligue 1 season stopped on Saturday as Montpellier dealt them a 3-0 loss. Ajaccio had a six-game unbeaten streak in all competitions. The win boosted Montpellier, which itself is unbeaten in 2012, into the league lead at least for 24 hours. Olivier Giroud led the hosts with his 16th goal this season. Younes Belhanda gave Montpellier all the scoring it needed as he converted a penalty kick past Ochoa in the 53rd minute before Remy Cabella and Giround struck within three minutes of one another later in the second half.
Tiger, Tiger Burning Bright -- Best Sports Pix
Mexico
Israel Jiménez, Lucas Lobos
Jimenez, a Mexican, scored the first goal for Tigres in the 34th minute in the 2-0 win over San Luis. Lobos, an Argentine, volleyed in the second in the 57th.
Miguel Sabah
The Mexican international recorded a brace for Morelia in the 23rd and 25th minutes in its 3-1 win over Santos Laguna. Adrian Aldrete's own goal cut the lead in half for Santos in the 29th minute, but Gerardo Lugo restored a two-goal cushion in the 90th minute.
Honduras
Emilo Izaguirre
The Honduran international defender again did not dress for Celtic FC's 1-0 Scottish Premier League victory over Inverness. No reason was given for Izatuirre's absence. The win was the club's 17th in a row in domestic matches and in manager Neil Lennon's 100th game.
Beach Soccer Worldwide Cancun Cup
Mexico
Mexico could not have made the final of the Beach Soccer Worldwide Cancun Cup any more dramatic. El Tri defeated its rival, the United States, 2-1, in extratime to win the competition. Mosco scored in the extra session for the unbeaten Mexicans (3-0) after regulation ended at 1-1. The U.S. finished winless at 0-3. Rodriguez gave the Mexicans a 1-0 lead in the opening period, but Morales immediately replied to draw the Americans early.
Agustín was named the leading scorer on the strength of his seven goals while also earned MVP honors.
Michael Lewis, who has covered international soccer for three decades, can be reached at SoccerWriter516@aol.com.
Follow us on twitter.com/foxnewslatino
Like us at facebook.com/foxnewslatino