The two Republican senators who have cited frustration with Donald Trump's presidency as reason for their retirement also were grappling with weak poll numbers, spurring questions about whether more Trump critics might face pressure to call it quits.
Arizona Sen. Jeff Flake announced Tuesday that he wouldn't seek a second term -- in a lofty Senate floor speech in which the senator said he'd no longer be "complicit or silent" about Trump's perceived offenses.
Flake followed with a Washington Post op-ed Wednesday in which he said: "Nine months of this administration is enough for us to stop pretending that this is somehow normal."
But his poll numbers for a 2018 reelection already were under water. Just 37 percent of Arizona Republican voters approved of Flake's job performance and 50 percent disapproved, according to a recent Morning Consult poll.
"He was going to lose, and he was going to lose big," Constantin Querard, a GOP consultant in Arizona, told Fox News on Wednesday.
Flake's fallout with Trump started even before the president took office, when he withheld his endorsement because Trump insulted Vietnam veteran and Arizona senior GOP Sen. John McCain. Then came his anti-Trump book this summer, "Conscience of a Conservative."
"He wrote a book about me before I ever heard of him," Trump told reporters Wednesday. "The first time I saw him on TV … I assumed he was a Democrat. … His poll numbers are terrible. He's done terribly for the great people of Arizona, a state that likes Trump."
Flake's relationship with Arizona voters began to deteriorate soon after he went from the House to the Senate and became a member of the chamber's bipartisan, so-called Gang of Eight that pushed for comprehensive immigration reform.
"In a border state like Arizona, if your single issue is amnesty, you should expect to have problems with your base," Querard also said. "His problems with Arizona voters pre-date Trump the candidate."
But the sparring with Trump might not have helped either.
"Everything is in place to get me [to Washington] and drain the swamp," Kelli Ward, a Republican candidate for Flake's seat who is backed by Trump ally Steve Bannon, told Fox News' "Outnumbered" on Wednesday.
Corker's relationship with Trump, compared with Flake's, seemed to unravel more recently in August, when the two-term senator questioned the president's "competence" and leadership after the deadly protests in Charlottesville, Va., where a woman was fatally struck by a car allegedly driven by a white supremacist.
Corker announced in September he would not seek reelection. Polls for the Tennessee Star in June showed just 41 percent of likely GOP primary voters said Corker "deserved reelection."
In their still-escalating war of words, fought largely on Twitter, Corker suggested Trump got ahold of a cellphone and started tweeting insults at him because "TheDayCareStaff#" was off duty. Trump called Corker "liddle Bob" and taunted that he "couldn't get elected dog catcher."
Republican strategist Rory McShane said last week that Flake's situation is "indicative of the mood of the electorate."
"At one point rounding up endorsements from every elected official in the state was the first thing you did when running for office, now it probably hurts you," he said. "For years, incumbency came with inherit advantages. Now incumbency is almost an inherit disadvantage with the entire Republican base and volunteer corps demanding we drain the swamp."
So who could be next?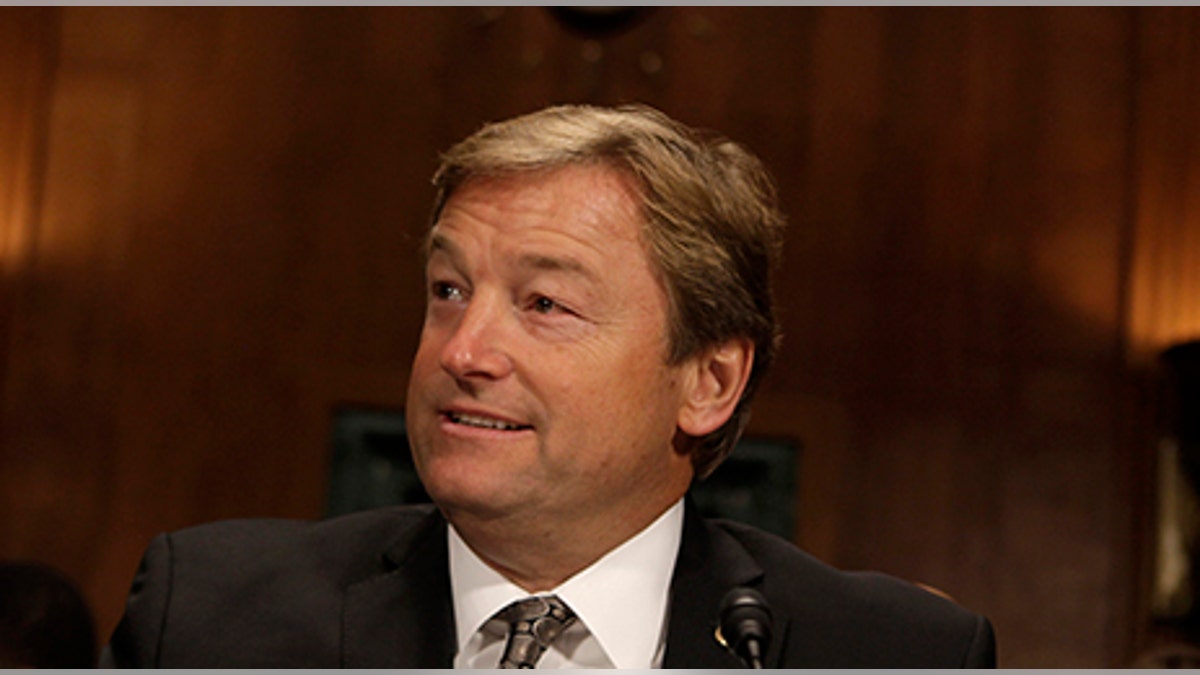 Senate Republicans' failure this summer to repeal and replace ObamaCare has put such GOP incumbent senators as Lisa Murkowski, of Alaska, and Dean Heller, of Nevada, on Trump's radar.
Endangered Heller got a taste of what running for reelection in 2018 would be like when he said in June that he couldn't support Senate Republicans' ObamaCare replacement bill.
A Trump-aligned super PAC, America First Policies, promptly announced an anti-Heller ad campaign. And while Heller was sitting next to Trump at a White House event, the president said about him: "He wants to remain a senator, doesn't he?"
Trump has been easier on Murkowski and fellow GOP Sen. Susan Collins, of Maine, in trying to get their votes for ending ObamaCare and giving him his first big legislative win.
"Alaska had a 200% plus increase in premiums under ObamaCare, worst in the country. Deductibles high, people angry! Lisa M comes through," Trump tweeted in September about Murkowski.
Collins is far more comfortable in Maine than Flake is in Arizona. Maine voters picked Democrat Hillary Clinton over Trump in 2016. And Collins, two years earlier, won a fourth term with more than 68 percent of the vote.
"Neither of them really depend on Trump voters," David Payne, president of the Codavate public affairs firm, said Wednesday. "Collins is completely insulated."
For now, Collins is staying put, having announced earlier this month that she will not run for governor.
The pressures on moderate senators, however, could create future problems for the Trump agenda.
Despite the Flake-Trump feud, Flake voted for the Trump agenda roughly 90 percent of the time. Republicans will be under heavy pressure to prevent the seat from flipping next fall.
After conservative Judge Roy Moore won Alabama's special GOP Senate primary last month, Senate Majority Leader Mitch McConnell warned about the perils of divisive GOP Senate candidates losing in the general election -- as happened in 2010 and 2012 with nominees like Christine O'Donnell in Delaware and Richard Mourdock in Indiana.
"They were not able to appeal to a broader electorate in the general election," the Kentucky Republican said. "My goal as the leader of the Republican Party in the Senate is to keep us in the majority. The way you do that is not complicated. You have to ... nominate people who can actually win."