Senators Call On Administration to Stop Student Visa Fraud at 'Sham' Universities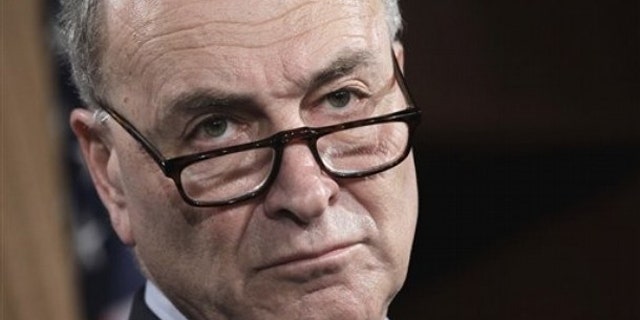 NEWYou can now listen to Fox News articles!
Several top U.S. senators are calling on the Obama administration to crack down on so-called "sham universities" which serve as a front for getting foreign nationals into the United States on student visas.
Warning about the danger of criminals and terrorists exploiting this security gap to gain entry into the country, the senators proposed new legislation increasing penalties for those operating the colleges and urged two federal departments overseeing the visa and immigration system to do a better job tracking down fraud.
"These so-called schools not only defraud students and violate immigration laws, but they pose a real threat to our country," the senators wrote in the letter Sunday to officials at Immigration and Customs Enforcement and U.S. Citizenship and Immigration Services. The letter was signed by Sens. Dianne Feinstein, D-Calif.; Chuck Schumer, D-N.Y.; Claire McCaskill, D-Mo.; and Jon Tester, D-Mont.
"When the student visa program can easily be manipulated by bad actors, it threatens the viability of the entire program for the large majority of bona fide participants. Fraud in the student visa program is especially troubling given that several of the 9/11 terrorists entered the country using the student visa program," they wrote.
Federal officials have taken action against some of these so-called schools, which don't provide coursework or classes. The senators cited the case of Tri-Valley University in California, which was raided by ICE officials earlier this year. ICE officials had noticed enrollment soaring to 1,500 -- with students mostly coming from the same region of India -- and conducted a sting operation. Court documents said the university was a "sham" since its inception.
The senators also cited the case of two other California "schools" busted for providing student visas to Russian prostitutes and others who would have been ineligible. Three "schools" in New York were closed in 2006 and 2007.
Despite these cases, the senators say more needs to be done. They urged both agencies to produce a list of "high-risk factors for fraud" within 90 days and then visit any school exhibiting those factors. These factors could cover schools that are not accredited or conduct classes mostly online, the senators wrote.
Further, they urged more coordination among USCIS, ICE and the Department of State when it comes to student visas. And they said "we are committed" to introducing a bill to toughen penalties for this kind of fraud.
"These new penalties will assist you in obtaining justice for the bad actors who compromise our system," they wrote.
The senators also urged the Government Accountability Office to review how visas are doled out to those attending student exchange visitor programs. The letter cited Department of Homeland Security statistics showing more than 10,000 schools are approved to accept foreign nationals through these programs.