Republican Opponent Blasts Bill de Blasio For Trips To Nicaragua And Cuba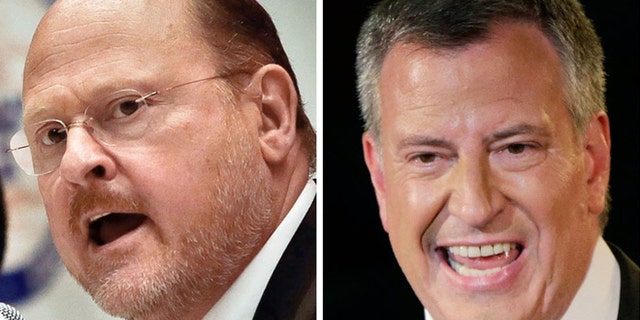 New York City's Democratic candidate for mayor, Bill de Blasio, is taking heat from his Republican and third party rivals over his travels to Central America and alleged support of the Nicaraguan Sandinista rebels in the 1980s.
Both Republican mayoral nominee Joseph J. Lhota and Independence Party candidate Adolfo Carrión have called out de Blasio's political worldview, his travels to Nicaragua to do humanitarian work in the troubled 1980s and his decision to take a honeymoon trip to Cuba in 1991. Carrión called de Blasio's political viewpoint 'a scene right out of 'Animal Farm'."
"It's pretty obvious we think very, very differently about the way the governments of the world should work," Lhota said at a news conference, according to the New York Times. "In his own words, he called himself a 'democratic socialist.' It's really unfortunate that that's the level that we've come to in this city."
The criticism came as President Barack Obama endorsed de Blasio's candidacy and the two to spoke about global affairs.
After a Monday press conference organized by the Jewish Community Relations Council of New York, de Blasio attempted to skirt reporters efforts to question him on the criticism, but was later questioned about his work in Nicaragua during an event later in the day.
"Fighting for equality to me — I say this humbly — is my life's work," he said. "I'm not surprised that my opponents will throw labels and call names. That's a Republican tactic, that's a right-wing tactic. We've all seen it plenty of times."
When questioned about his 1990 statement about his vision of society being "democratic socialism," de Blasio said that he was not quoted correctly and that it was "someone's notes."
Along with criticism from his opponents, de Balsio has also drawn fire from activists and former military members.
"I think he ought to be quiet about that," said retired US Army Maj. Gen. John Singlaub, who aided anti-communist guerrillas in Nicaragua as part of the 1980s Iran-Contra affair, according to the New York Post. "People who supported the Sandinistas were doing so in violation of the announced policy of the United States."
A member of the National Association of Cuban-American Women also blasted de Blasio's honeymoon in Cuba.
"Fidel Castro killed a lot of people in my country in the '60s and '70s. When you are against him, he will do something against you," she told the Post, speaking on condition of anonymity because she still has relatives living in the nation.
Follow us on twitter.com/foxnewslatino
Like us at facebook.com/foxnewslatino