Republican National Committee to Launch Ads Targeting Florida Latinos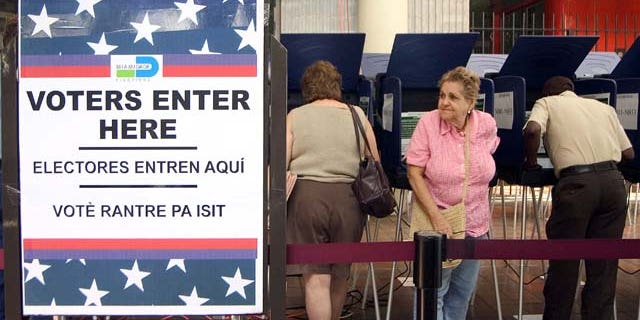 The Republican National Committee launched the latest volley in an escalating battle of political ads targeting Latinos.
This time, the RNC is expecting to release television and radio ads geared toward Hispanics in Florida. The ads, dubbed "Change Direction," are the fourth in a series of ads geared toward swinging the key voting bloc.
Earlier this month, the group blitzed radio stations in New Mexico, Colorado and Nevada, criticizing President Barack Obama on the economy, taxes and unemployment.
"We know that President Obama has failed to lead our economy back to recovery and people in Florida, Virginia, North Carolina, Indiana, Ohio and Iowa are well aware of his abysmal record," said RNC Chairman Reince Preibus. "These are states Obama carried in 2008 that he must hold in 2012.
"The risk of continuing Barack Obama's failed stewardship of our economy is too great," the statement continued. "The American people know it's time to change direction away from his out-of-control spending and high unemployment to get this economy on a path to prosperity."
The 30-second television spot, which features a little girl flicking through TV channels, fast forwards to Jan. 20, 2017 – the hypothetical last day of Obama's presidency after winning a second term in office. The ad, flashing images of Obama as a candidate running on change and hope, shows unemployment lines, homelessness and a scenario in which China has surpassed the United States as a world power.
"Eight years ago we were promised hope," says the narrator. "Today, many believe their American dream has been lost."
The radio spot, in Spanish, says Obama "promised a better economy" but instead "what he gave us...was a bigger government...and a debt that won't stop growing."
The advertisements, expected to be aired Wednesday, come just days after the Democratic National Committee launched ads of their own targeting Latinos. The DNC released the ads in Las Vegas, Denver and Miami, and blasted Republicans for trying to end Medicare and lowering taxes for the rich.
Both parties are jockeying for an ever expanding Latino voter base. The Latino population grew to 50.5 million in 2010 from 35.3 million in 2000. About 21 million are eligible to vote.
In Florida, the Latino voters – from the South Florida Cubans to the Puerto Ricans along the I-4 corridor from Tampa to Orlando – vary in their political affiliations and loyalties. Some Hispanic voters who helped get President Obama into office also catapulted Tea Party favorite Marco Rubio to win the Republican primary and subsequent senatorial election in 2010.
Earlier this month, the battle for the Sunshine State extended all the way to Puerto Rico, when President Obama visited the Caribbean island as a way to woo mainland Boricuas.
Beyond the pressure from the GOP, the president has tried to pivot his way back into the good graces of Latinos. In addition to the Puerto Rico trip, Obama has visited El Paso, Texas, and just this week gave a speech to the National Council of La Raza, where at one point he came under fire for his policies on deportations.
Wil Cruz can be reached at wil.cruz@foxnewslatino.com.
Follow us on twitter.com/foxnewslatino
Like us at facebook.com/foxnewslatino