Libyan Leaders Defiant as U.N. Security Council Clamps Down, U.S. Calls for Qaddafi's Exit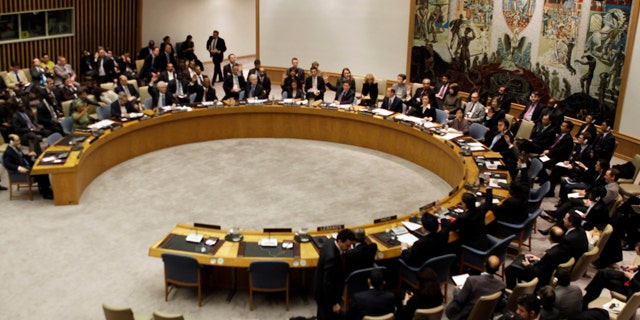 NEWYou can now listen to Fox News articles!
The Obama administration will offer "any type of assistance" Libyans seeking to oust Muammar al-Qaddafi need, Secretary of State Hillary Clinton said Sunday before jetting off to Geneva for talks with diplomats about establishing a unified front against the dictator..
Clinton did not discuss military assistance, but added that African nations must not let mercenaries go to the aid of the Qaddafi clan.
"You must stop mercenaries, you must stop those who may be going to Libya either at the behest or opportunistically to engage in violence or other criminal acts," she said.
Meanwhile, Qaddafi's sons are vowing to stay in Libya until the bitter end, saying Sunday that reports of widespread violence are overblown even as the U.N. Security Council moves against the strong-arm dictator and his family.
Sayf and Saadi Qaddafi denied any suggestion there is a crisis that could topple their father's regime.
"You're hearing rumors, false reports," Sayf Qaddafi said on ABC's "This Week."
"There's a big gap between reality and the media reports. ... The whole south is calm. The west is calm. The middle is calm. Even part of the east."
Saadi Qaddafi said if his father left it would only take one hour for the country to devolve into civil war.
"Nobody is leaving this country. We live here. We will die here," Sayf Qaddafi said.
Saadi and Sayf Qaddafi are two of the dictator's five children targeted in a five-part U.N. Security Council resolution on Saturday. Qaddafi and 10 of his top associates were named in the resolution aimed at putting the squeeze on the Libyan strongman facing massive protests at home.
The resolution, which won the support of veto power-wielding China at the end of a long day, includes a travel ban and an asset freeze for key Libyan leaders. It imposes a complete arms embargo on Libya. It also calls a ban on states to provide transit to Libya of mercenaries, encourages cargo inspections by states transporting goods there and provides for states to offer support for humanitarian assistance and agencies.
Asked about the sanctions, Saadi Qaddafi, a former soccer player for an Italian team, lamented the limits on his travel.
"I'm going to hire a lawyer. I have some hobbies after I quit football. I have some hobbies like I do some hunting, I go to safari. So in Libya there is no safari, so I've got to safari, I have got to hire a lawyer," he said.
Security Council members did not consider imposing a no-fly zone over Libya, and no U.N.-sanctioned military action was planned. NATO also has ruled out any intervention in Libya.
The U.N. General Assembly plans to vote Tuesday on whether to suspend Libya from the U.N. Human Rights Council. It takes a two-thirds vote of member states present in the General Assembly to adopt such a measure.
The resolution also refers Qaddafi to the International Criminal Court for prosecution for crimes committed against the Libya people after protests began Feb. 15.
Susan Rice, U.S. ambassador to the U.N., called the move "very significant:"
"For the first time ever, the Security Council has unanimously referred an egregious human rights situation to the International Criminal Court. As President Obama said today, when a leader's only means of staying in power is to use mass violence against his own people, he has lost the legitimacy to rule," she said.
The council said its actions were aimed at "deploring the gross and systematic violation of human rights, including the repression of peaceful demonstrators." And members expressed concern about civilian deaths, "rejecting unequivocally the incitement to hostility and violence against the civilian population made from the highest level of the Libyan government."
The uprising that began Feb. 15 has swept over nearly the entire eastern half of the country, breaking cities there out of his regime's hold. Qaddafi and his backers continue to hold the capital Tripoli while rebels have taken control of one city about 30 miles from Tripoli.
Sen. Joe Lieberman, I-Conn., said Sunday that the U.S. "should recognize the opposition government as the legitimate government of Libya and that we ought to give that government, certainly, humanitarian assistance and military arms."
He stopped short of calling for direct American military involvement, but Sen. John McCain, R-Ariz., did not rule it out in an interview with Lieberman on CNN's "State of the Union." The two had just returned from a weeklong Mideast trip.
The two also criticized President Obama for not moving more forcefully against Qaddafi. Obama called German Chancellor Angela Merkel Sunday to say Qaddafi needs to do what's right for his country by "leaving now."
"I understand why the administration hesitated at the beginning because of the concern about American personnel at the embassy but frankly, I wish we had spoken out much more clearly and early against the Gadhafi regime," Lieberman said.
The White House on Friday announced sweeping new sanctions and temporarily abandoned its embassy in Tripoli as a final flight carrying American citizens left the embattled capital. The U.S. put an immediate freeze on all assets of the Libyan government held in American banks and other U.S. institutions. The sanctions also freeze assets held by Qaddafi and four of his children.
Britain and Canada, meanwhile, temporarily suspended operations at their embassies in Tripoli and evacuated their diplomatic staff.
Qaddafi is no stranger to international isolation.
U.N. sanctions were slapped on his country after suspected Libyan agents planted a bomb that blew up Pan Am Flight 103 over the Scottish town of Lockerbie in 1988, killing 270 people, mostly Americans.
Libya accepted responsibility for the bombing in 2003 and pledged to end efforts to develop weapons of mass destruction. The U.S. and Libya in 2009 exchanged ambassadors for the first time in 35 years, after Libya paid about $2.7 billion in compensation to the families of the Lockerbie victims.
The Associated Press contributed to this report.