Hawaii judge rules makeup primary should proceed as planned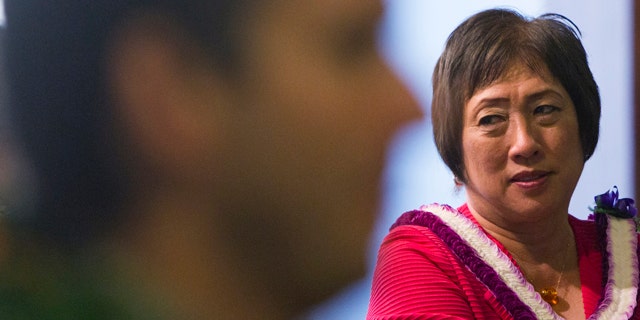 A Hawaii judge upheld the timing of a makeup primary election Thursday for more than 8,000 voters on the Big Island despite a last-minute challenge from a Senate candidate who said residents should have more time to recover from a tropical storm that damaged the area.
Circuit Court Judge Greg Nakamura ruled that the election should proceed Friday, despite concerns about its legitimacy. "The court is not supposed to interfere with an ongoing election process," Nakamura said.
The judge's ruling indicated that while the law says the election can be held, people are still trying to recover from damage caused by Tropical Storm Iselle.
"If you take a popular poll now, the poll would indicate that there's a lack of common sense to hold the election tomorrow," he said.
About 6,300 customers were without power on the Big Island Thursday, with about 200 utility poles and 130 transformers damaged, spokesman Darren Pai of Hawaii Electric Light Co. said.
"The magnitude of the damage, especially concentrated in the Puna District, is greater than we've ever seen," Pai said.
Nakamura's ruling rejects a complaint from U.S. Rep. Colleen Hanabusa, who is running in a Democratic primary for U.S. Senate against U.S. Sen. Brian Schatz.
Hanabusa argued the scheduling of the makeup election doesn't give enough time for voters in two Puna precincts to regain power and road access after the storm hit last week. State elections officials counter by saying they were informed that roads were clear and noting their obligation to finish the election promptly.
"This case is about a candidate having a different opinion than the chief election officer as to when the election should be held," said John Molay, a lawyer in the state attorney general's office who argued the case.
"We need finality to this election," Molay said.
Hanabusa filed a complaint against the head of Hawaii's elections office, Scott Nago, asking for a temporary restraining order to block the election Friday.
"There's a sense of mass confusion out there," her attorney, Richard Wardenan, said at the hearing. "What's the rush with all of this at stake?"
Wardenan said Hanabusa won't appeal the judge's decision.
Hanabusa trails Schatz by about 1,600 votes and faces a steep challenge to overwhelmingly defeat him in the two precincts and turn out enough voters to make up the deficit.
Schatz campaign manager Clay Schroers said the senator will continue to focus on helping people recover. "His commitment to recovery in Puna extends beyond the election," Schroers said.
Hanabusa campaign spokesman Peter Boylan said the campaign planned to canvass the precincts and give people rides to the polls if needed.
"We will continue to distribute food, water, fruit and ice to those in need, but we need people to be aware that there is an election tomorrow," Boylan said. "This campaign is not over, and we will continue to work very hard to earn every vote."
The race in heavily Democratic Hawaii is likely to determine the state's eventual choice to fill two years of a term for U.S. Sen. Daniel Inouye, who died in 2012. Schatz was appointed to the seat after Inouye died.
The election planned for Friday calls for voters to cast ballots at an elementary school with results released later that night.
Philip Matlage, a local chairman of the Democratic Party for the affected district, said voters were previously told they would vote with absentee ballots and some only found out about the change Thursday in the newspaper.
"An election will be held tomorrow," he said. "The question is whether anyone knows this will be happening?"